I received this book for free from Publisher ARC in exchange for an honest review. This does not affect my opinion of the book or the content of my review.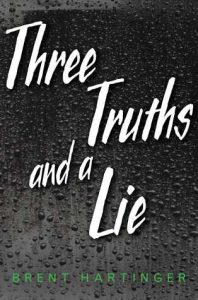 Three Truths and a Lie by Brent Hartinger
Published by Simon Pulse
Genres: Young Adult, Contemporary, Thriller/Suspense
Pages: 272
Format: ARC
Source: Publisher ARC
Add to: Goodreads

A weekend retreat in the woods and an innocent game of three truths and a lie go horribly wrong.

Deep in the forest, four friends gather for a weekend of fun.

Truth #1: Rob is thrilled about the weekend trip. It's the perfect time for him to break out of his shell…to be the person he really, really wants to be.

Truth #2: Liam, Rob's boyfriend, is nothing short of perfect. He's everything Rob could have wanted. They're perfect together. Perfect.

Truth #3: Mia has been Liam's best friend for years…long before Rob came along. They get each other in a way Rob could never, will never, understand.

Truth #4: Galen, Mia's boyfriend, is sweet, handsome, and incredibly charming. He's the definition of a Golden Boy…even with the secrets up his sleeve.

One of these truths is a lie…and not everyone will live to find out which one it is. - via GoodReads
After a sad read I wanted something to get my blood pumping and I was hoping Three Truths and a Lie by Brent Hartinger would fill that need. Unfortunately I was disappointed. I still gave it three stars but it didn't blow me out of the water like I had been hoping.
The plot had a lot of potential. It just missed with me. The concept of going out to the woods in this remote area with semi-new people should have been terrifying and the things that did happen were a bit tense but also kind of easy to figure out. The writing was also a bit choppy. It just seemed rather obvious. The main character Rob spent a lot of time confused. In a thriller there are two types of confusion: the type that is cleared up in little but little bits that make dawn on you slowly. Then there is the big reveal that rocks you. In Three Truths and a Lie I spent the entire book confused even with the twist that should have rocked me. I just wasn't shocked by it.
Three Truths and a Lie's plot had a lot of potential. It just missed with me.
Click To Tweet
We meet all of the characters through the eyes of Rob. Rob doesn't really know these people and doesn't really seem to like them. The only reason he even hangs out with them is to try and appease his boyfriend Liam. We've all been there. There's that one friend that you just don't click with. Mia is that friend. Because Rob doesn't care for Mia or her boyfriend, as a reader you don't really know or like the other characters (except Liam and even that is shaky throughout the book). Without likeable characters you depend on the plot. And based on my summation on the plot, Three Truths and a Lie didn't have a good leg to stand on with me.
Since I didn't care for the characters and the plot didn't thrill me I'm giving Three Truths and a Lie 3 castles/stars. It was a quick read and entertaining enough to not be frustrating. I can say I'm glad I didn't invest money in it though.