I received this book for free from Little Bird Publicity in exchange for an honest review. This does not affect my opinion of the book or the content of my review.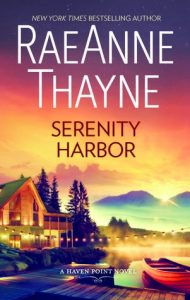 Serenity Harbor by RaeAnne Thayne
Also by this author: Snowfall on Haven Point, Sugar Pine Trail
Series: Haven Point #6
Also in this series: Snowfall on Haven Point, Sugar Pine Trail
Genres: Adult, Contemporary, Contemporary Romance, Romance
Pages: 384
Format: ARC
Source: Little Bird Publicity
Add to: Goodreads

In the town of Haven Point, love can be just a wish—and one magical kiss—away…

Computer-tech millionaire Bowie Callahan is about the last person that schoolteacher Katrina Bailey wants to work for. As far as she can see, he's arrogant, entitled and not up to the task of caring for his young half brother, Milo. But Kat is, especially if it brings her closer to her goal of adopting an orphaned little girl. And as her kindness and patience work wonders with Milo, she realizes there's more to sexy, wary Bo than she'd ever realized.

Bo never imagined he'd be tasked with caring for a sibling he didn't know existed. Then again, he never pictured himself impulsively kissing vibrant, compassionate Katrina in the moonlight. Now he's ready to make her dream of family come true…and hoping there's room in it for him, too… - via GoodReads
When I was given the opportunity to read and review Serenity Harbor by RaeAnne Thayne I jumped on the chance. I had read and really enjoyed Snowfall on Haven Point and I was eager to continue the series.
I was a little worried about Serenity Harbor because in the first 50 pages or so we find out that the book features not one but two special needs children. Romance novels specifically can be hard to carry off with children in them. There are some readers who won't read them if children play a large role. These two children do. I mention that the two kids are special needs not because I am against special needs being in a book but because I was worried it was being added gratuitously; especially as there were two children (not related) and it was a predominant part of the book. I shouldn't have worried. RaeAnne Thayne realistically presented life with an autistic child. It wasn't the main part of the book or even Milo as a character but Thayne did present the daily struggles and joys appropriately.
Serenity Harbor was another great addition to the Haven Point series. I enjoyed spending more time in a thriving small town. I didn't love Katrina as much as I had hoped. I struggled with the fact that she was back in town after having left Haven Point a year ago with a man she barely knew and moving to Columbia with him. Her ex ends up leaving her shortly after they get there and she lives on her own for most of the year.
The part that I struggled the most with in Serenity Harbor is that Kat can't understand and gets frustrated with people who can't recognize that she is a mature adult who can make rational decisions. Hello? The last decision they saw you make was leaving your job and family to follow a guy halfway across the globe. After a decision like that you have to prove you've changed. That's just how it works.
Bowie was an awesome leading male. I really enjoyed his character. He didn't have a traditional childhood and feels like he can't make decisions out of love because he doesn't think he knows how. I'll let you in on a secret: that seems to be all he does. Bowie has a big heart. I loved watching him discover that for himself.
Overall Serenity Point by RaeAnne Thayne was a great contemporary romance but I had a few stumbles. Some of them ended up being fine and I enjoyed the time I spent with Haven Point.