I received this book for free from Forever in exchange for an honest review. This does not affect my opinion of the book or the content of my review.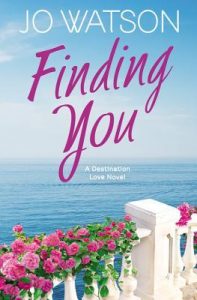 Finding You by Jo Watson
Series: Destination Love #3
Published by Forever
Genres: Adult, Contemporary, Contemporary Romance, Romance
Pages: 368
Source: Forever
Add to: Goodreads

When you go to Greece to meet your family but end up making out with your smokin' hot tour guide #sorrynotsorry

Being adopted never made Jane Smith feel unloved, just unlike the rest of her family. As her twenty-fifth birthday approaches, she is struck by an overwhelming longing to finally find her place in the world. So in a very un-Jane-like move, she books a last-minute ticket to Greece to find her birth father and the real Jane. All she knows about him is it that he was a tour guide named Dimitri. Armed with this knowledge and several surprise boxes of condoms from her mom (not embarrassing at all), Jane takes off.

Within minutes of landing she makes two important discoveries. First, everyone in Greece is named Dimitri, and second, fate might be playing a sick joke on her when a sexy tour guide called Dimitri comes to fetch her from the airport. He offers to help Jane with her search---if she'll go on an adventure with him. Stable Jane would never risk a steamy vacation romance. But real Jane might finally be ready to listen to her heart. Will Jane find her biological father, or will she end up finding something else entirely? - GoodReads
Once I actually started traveling I wanted to read more outside of the area/country that I live in. Finding You by Jo Watson nicely fit into this goal. Plus a contemporary romance set in Greece? What's not to love?
I'm not going to lie it took me awhile to get into Finding You. I had a hard time connecting to Jane at first. She goes off to find her biological Grecian father to see where half of her heritage comes from. Part of the book that I struggled with was the realistic possibility that Jane would succeed. I was able to get over this pretty quickly as I don't read fiction for complete reality. In fact, I'm usually trying to escape reality so I can't bitch if unrealistic things happen. Right? It was a ton of fun to follow Jane on what would be a fantastic vacation. I've never been to Greece but if the way Watson describes it is half of what it truly is, sign me up for a future trip! There was a part with Dimitri that really pissed me off BUT he saved himself. I'd go into details but I also don't want to give anything away.
I really could sympathize with Jane. There have been times when I didn't feel like I fit in with the rest of my family. Not often but I've experienced it. The one time I can clearly remember was a very unsettling experience. I can't begin to imagine what feeling it and knowing it would be like. The "sex now" bit got a wee bit old. I thought that eventually it would be let go but just as soon as I was sure it had been used up there would be another "sex now" fantasy. sigh. Dimitri was such a sweet guy. He was a little misguided but still his heart was in the right place and I understood his thought process. IF I couldn't have understood his motives then my feelings would be much different. I enjoyed the secondary characters. Most of the secondary characters were Greek natives and some of my favorite scenes include them. Stormy's character really confused me. I just don't know how you can be someone my age and not know how to use a smartphone. Or at least type like an intelligent person on one. (As this is book three of a series its possible that I've missed out on some key info on Stormy).
I loved this book. I actually am surprised to say that. I went in to it thinking I would like it but Finding You by Jo Watson surprised me. It took awhile for me to enjoy it. I persevered even though I couldn't connect right away. Finding You made me laugh (quite a lot) and I cried (a few times). I certainly want to go back and read the other two. I've even purchased Almost a Bride. I'm going to hold on to it for when I'm in need of a destination contemporary romance that will make me giggle and have me tearing up. I can't wait.