The Sunday Post is a weekly meme hosted by Caffeinated Book Reviewer. It's a chance to share news: a post to recap the past week on your blog, showcase books and things we have received. Share news about what is coming up on our blog for the week ahead. Borrowed from Kimba @ Caffeinated Book Reviewer.
I'm actually updating my Sunday Post on Saturday. Later today, I'm picking up my mom and we're making the 2 hour drive to my sister's where I will get to hold my nephew for the first time! SQUEEEEEE! The little stinker held out on us and decided to come the day before I left for Arizona. I was there (though not in the room) for his birth. I was able to see him for about 5 minutes before I had to go. 🙁 Of course he had only been in the world for about 15 minutes so there was no way I was going to hold him before I had to leave. My sister was a trooper and was only in labor for about 6 hours from the time she was induced to delivery. If they are okay with it, I'll have a picture to share next week.
In the reading world I just finished my current read One Shot by Lee Child. It was a good one guys! But now I'm off to the Scottish Highlands where a laird is going to try to keep his wife. o.O This week I made the blog migration from self-hosted WordPress to GoDaddy's Managed WordPress. Late last year I had an issue with something (spam? malware? I don't know) somehow being injected into my site. It was devastating and if I wasn't able to figure out how to fix it myself it was going to cost about $200.00 to get it fixed by someone who knew what they were doing. Then about a month ago GoDaddy emailed me and let me know they had removed suspected malware from my space in the server. Could have been on their end, could have been on mine. Long story short I don't have patience or the time to keep dealing with this. The Managed WordPress should help with that. I just re-upped hosting and domains for 3 years. You're kind of stuck with me!
It might be a point of interest to know that Broken Link Checker is a blacklisted plugin on GoDaddy and it has been removed from my site.
Here's what we've been up to this week:
Previously on Once Upon a Chapter:
This week at the library I picked up a few books. I read Goodbye Days by Jeff Zentner at the end of last week. So far I'm good with this haul! I'm very excited for all of these books. Did I mention how much I love the library?!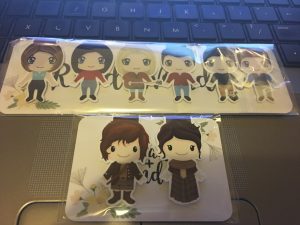 I also received my order from Read and Wonder on Etsy. How cute are they?! The characters of Friends and of course Jamie and Claire.
I'm trying to read through some of my old review requests that I never got around to. I want to try and get through all of my overdue review requests this year. Once Upon a Plaid is one of my oldest. Who doesn't want to read about a laird trying to keep his wife? This one should keep me entertained for the first half of the week.



I picked this one up at the library when I went to pick up Goodbye Days. I haven't seen much on it but when I checked GoodReads just now it seems a lot of people in my feed want to read it. It sounds great!


What are you reading this week?