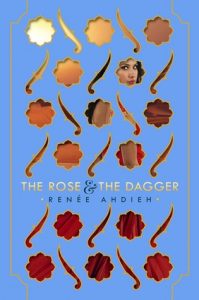 The Rose and the Dagger by Renee Ahdieh
Also by this author: The Wrath and the Dawn
Series: The Wrath and the Dawn #2
Also in this series: The Wrath and the Dawn
Add to: Goodreads

The darker the sky, the brighter the stars.

In a land on the brink of war, Shahrzad is forced from the arms of her beloved husband, the Caliph of Khorasan. She once thought Khalid a monster—a merciless killer of wives, responsible for immeasurable heartache and pain—but as she unraveled his secrets, she found instead an extraordinary man and a love she could not deny. Still, a curse threatens to keep Shazi and Khalid apart forever.

Now she's reunited with her family, who have found refuge in the desert, where a deadly force is gathering against Khalid—a force set on destroying his empire and commanded by Shazi's spurned childhood sweetheart. Trapped between loyalties to those she loves, the only thing Shazi can do is act. Using the burgeoning magic within her as a guide, she strikes out on her own to end both this terrible curse and the brewing war once and for all. But to do it, she must evade enemies of her own to stay alive.

The saga that began with The Wrath and the Dawn takes its final turn as Shahrzad risks everything to find her way back to her one true love again.
After loving The Wrath and the Dawn I wanted to see where the story went.
This book starts off a little slow because everyone is in separate places because the secondary characters thought they were saving Shahrzad from the terrible King Khalid. I enjoyed how much Shahrzad was determined to get answers for the curse we learned about in the first novel and how much she wanted to get back to Khalid. She seemed to have a drive to get things done and I enjoyed that. She goes to a different place away from her family at night to get answers from a guy who knows magic and can help her understand where the curse came from. He was able to get her answers and he was a welcome relief from the characters that we already knew because he was a little crazy. The only thing I didn't like during this first part of the book was the fact that magic in this book is a little unexplained. How do we even understand how she has magic and why. So I wish this could have been explored a little more.
I do love when Khalid comes back for Shahrzad because he adds back in romance and tension to the story. He also puts up a great fight for his own wife against the man who wants to make her his instead. We also know that the heroine was never interested in any other man which was a nice change of pace to keep the same love interest the whole way through. I also love where the author took the romance. It never seemed forced or fake. It also had spark and I wish we were able to see more of the sexy scenes without so much fading to black.
"No. He was not here to wreak revenge.
For revenge was trifling and hollow.
No. He was not here to retrieve his wife.
For his wife was not a thing to be retrieved.
No. He was not here to negotiate a truce.
For a truce suggested he wished to compromise.
He was here to burn something to the ground."
Once Khalid and Shahrzad were together they were unstoppable and I loved the team they made and how they were able to figure out how to handle their issues together. I thought the ending of this story was really great and I'm happy that this was just a duology because it meant no wasted time and no wasted words. I just wish the magic would have been explored more but it all worked in the end.
I love this author's writing and I can't wait for her newest novel.
"It was because they were two parts of a whole. He did not belong to her. And she did not belong to him. It was never about belonging to someone. It was about belonging together."