I received this book for free from Grand Central Publishing in exchange for an honest review. This does not affect my opinion of the book or the content of my review.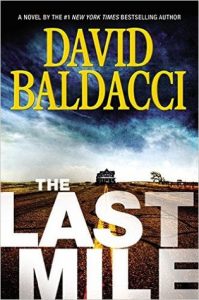 The Last Mile by David Baldacci
Also by this author: The Fallen, Walk the Wire
Series: Amos Decker #2
Also in this series: The Fallen, Walk the Wire
Published by Grand Central Publishing
Genres: Adult, Contemporary, Mystery
Pages: 464
Format: Paperback
Source: Grand Central Publishing
Add to: Goodreads

Convicted murderer Melvin Mars is counting down the last hours before his execution--for the violent killing of his parents twenty years earlier--when he's granted an unexpected reprieve. Another man has confessed to the crime.

Amos Decker, newly hired on an FBI special task force, takes an interest in Mars's case after discovering the striking similarities to his own life: Both men were talented football players with promising careers cut short by tragedy. Both men's families were brutally murdered. And in both cases, another suspect came forward, years after the killing, to confess to the crime. A suspect who may or may not have been telling the truth.

The confession has the potential to make Melvin Mars--guilty or not--a free man. Who wants Mars out of prison? And why now?

But when a member of Decker's team disappears, it becomes clear that something much larger--and more sinister--than just one convicted criminal's life hangs in the balance. Decker will need all of his extraordinary brainpower to stop an innocent man from being executed. - via GoodReads
I have recently started reading more and more mysteries and thrillers. I had read Memory Man and jumped at the chance to review The Last Mile by David Baldacci. I can almost identify with Amos Decker. He has a rare condition that in its most basic explanation doesn't let him forget anything. I have a pretty good memory and like Decker can't forget things I'd like to but it is pretty damn useful. Decker however can't associate emotion with his memories. Because of this his memories are like photographs and aren't manipulated by his emotions.
In The Last Mile Decker is about to embark on a new chapter in his life when his focused is shifted. On his drive to his new employer Decker hears a news story that is far too familiar. Melvin Mars is a man on death row in Texas and he has received a last minute miracle reprieve. Mars was convicted of murdering his parents right before his NFL career would have launched him into fame and gridiron glory. Another inmate in another state has copped to the murders. There are too many eerie similarities to the case from Memory Man for Decker to walk away from it.
The group that Decker is about to start working for is looking into cold cases. As a group they will decide what cases to work. Decker pretty much hijacks the groups and insists on working this case. What followed was a book that I had a hard time putting down. I already identify with Decker so that wasn't an issue. Other readers might struggle to connect with him but if given the chance he'll prove himself. All of the secondary characters contribute to the story and I really like FBI agent Bogart. I hope to see more of him as the series continues.
The story line definitely held my interest. I've only read two of Baldacci's books but I love the way he wraps a mystery in so many layers. Once the story is winding down it was reveled who was behind it. Then it was why. Then it was who was really behind it. Then it was really why. And it just kind of kept on going that way. Just when you thought okay this is what the story is, nope, here's a spin you weren't expecting.
The only reason this wasn't a complete five star read is that I did have a few things figure out which were most likely lucky guesses and intuition rather than finding the obvious. What I do know is that I can't wait for the third book to come out. According to GoodReads, it looks like it will be released in April. It was a nice surprise to find out I don't have too much longer to wait.
I think The Last Mile stands well enough on its own but you'll have a better time connecting with Amos Decker if you read Memory Man which is his story. Either way if you enjoy a good fast-paced mystery, I definitely suggest giving this one a try!