I spent quite a bit of time yesterday preparing for Dewey's. I wanted to make sure I didn't need to leave the house. I have everything ready to go. I even picked up a few energy drinks because I would love to make it the full 24 hours for once. I still don't see this as a strong possibility.

The Books!


I obviously don't plan on getting through all of these books but I am a strong believer in choice.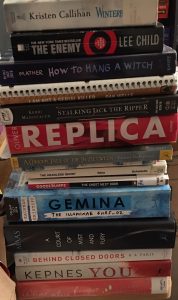 Remaining from My Original October TBR:
Snowfall on Haven Point by RaeAnne Thayne 127 pages left
The Headless Ghost by R.L. Stine
The Haunted Mask by R.L. Stine
What Alice Forgot by Liane Moriarty
You by Caroline Kepnes
Behind Closed Doors by B.A. Paris
Gemina by Amy Kaufman and Jay Kristoff
A Curious Tale of the In-Between by Lauren DeStefano
Replica by Lauren Oliver
I Am Not a Serial Killer by Dan Wells
Stalking Jack the Ripper by Kerri Maniscalco
The Enemy by Lee Child
Winterblaze by Kristen Callihan
Extras Snagged at the Library:
The Hating Game by Sally Thorne
Lie Still by Julia Heaberlin
The Lovely Reckless by Kami Garcia
Kids of Appetite by David Arnold
The Memory Man by David Baldacci
The Updates!
Hour 1 through Hour 4 (7 AM to 11 AM):
Currently Reading: Working on finishing my current read: Snowfall on Haven Point (127 pages remaining) 248 – 344
# of Books Read: 0 so far but should have one or two in the. Ext update
# of Pages Read: 93
Hour 5 through Hour 8 (11 AM to 3 PM):
Currently Reading: Snowfall on Haven Point by RaeAnne Thayne 344 – 376; The Headless Ghost by R.L. Stine 1 – 112
# of Books Read: 2
# of Pages Read: 234
Hour 9 through Hour 12 (3 PM to 7 PM):
Currently Reading:
# of Books Read:
# of Pages Read:
Hour 13 through Hour 16 (7 PM to 11 PM):
Currently Reading:
# of Books Read:
# of Pages Read:
Hour 17 through Hour 20 (11 PM to 3 AM):
Currently Reading:
# of Books Read:
# of Pages Read:
Hour 21 through Hour 24 (3 AM to 7 AM):
Currently Reading:
# of Books Read:
# of Pages Read: