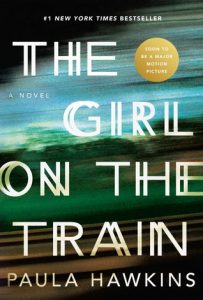 The Girl on the Train by Paula Hawkins
Add to: Goodreads

The debut psychological thriller that will forever change the way you look at other people's lives.

EVERY DAY THE SAME
Rachel takes the same commuter train every morning and night. Every day she rattles down the track, flashes past a stretch of cozy suburban homes, and stops at the signal that allows her to daily watch the same couple breakfasting on their deck. She's even started to feel like she knows them. Jess and Jason, she calls them. Their life—as she sees it—is perfect. Not unlike the life she recently lost.

UNTIL TODAY
And then she sees something shocking. It's only a minute until the train moves on, but it's enough. Now everything's changed. Unable to keep it to herself, Rachel goes to the police. But is she really as unreliable as they say? Soon she is deeply entangled not only in the investigation but in the lives of everyone involved. Has she done more harm than good?
I usually don't like to read mystery or thriller books because I have a hard time waiting to find out who did it. I decided to try this one because the movie trailers are coming out and Johnny and I wanted to go see it when it released.
I have to say my biggest struggle with this one was the characters. I'm a very character driven reader and this book had characters that I just couldn't care about. First there is Rachel, she is the girl who is on the train looking over at a row of houses every day imagining the fairy tale life of one couple in one house. She paints this couple out to be what her and her ex-husband should have been in her mind. She is a little crazy because she does nothing but drinks all day long and she has periods where she blacks out and doesn't remember anything. I realize why the author did this but I don't drink so I don't get the whole idea of drowning away your sorrows in a drink or being too drunk to remember anything from the night before. I felt Rachel was a sad excuse for a human being and I didn't really are about her.
Next we have Megan who is an unstable housewife. She longs to do something with her day but she instead goes around doing whatever her heart desires and doesn't ever stop to think of the consequences. She acts like a moody teenager who can't and wont get her life together.
Last we have Anna who is the new wife of Tom, Rachel's ex-husband. Anna was a mistress of Tom while he was married so who the heck can like a mistress. All she wants for the whole book is this perfect life with her husband and baby. I guess the only thing I liked about her was she wasn't constantly drinking and sleeping around. She seemed to know more of what she wanted from life even if she was a bit obsessed with making it happen.
Overall, I did like the second half of this book much better than the first because I did feel that the women were growing into slightly better people by the end but as a woman I think this book can be hard to read because who the heck wants these ladies as role models. I am in my mid twenties and I never want to get into my mid thirties and be depressed and abused the way these women were. There was no light at the end of the tunnel here and I just couldn't care less about any of the characters. The only thing that held my interest near the end was reading about how the whole crime took place and I enjoyed that because it focused on the crime and not these women and their boring sorrows.