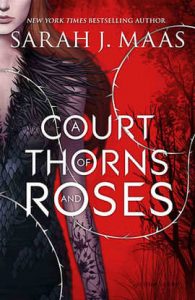 A Court of Thorns and Roses Series: A Court of Thorns and Roses #1
Also in this series: A Court of Mist and Fury, A Court of Frost and Starlight
Add to: Goodreads

She stole a life. Now she must pay with her heart.

When nineteen-year-old huntress Feyre kills a wolf in the woods, a beast-like creature arrives to demand retribution. Dragged to a treacherous magical land she knows about only from legends, Feyre discovers that her captor is not an animal, but Tamlin—one of the lethal, immortal faeries who once ruled their world.

As she dwells on his estate, her feelings for Tamlin transform from icy hostility into a fiery passion that burns through every lie and warning she's been told about the beautiful, dangerous world of the Fae. But an ancient, wicked shadow over the faerie lands is growing, and Feyre must find a way to stop it . . . or doom Tamlin—and his world—forever.
I love the Throne of Glass series so I was excited/nervous in order to see what Maas had to offer in this more adult series.
Starting this one I was nervous because I wasn't really liking Feyre that much. She seemed a little plain and unfeeling. I have to say I wasn't really into the story until we entered the world for the fae. Once we were in the fae's world things started to look up. We got to meet the mysterious Tamlin who is the High Lord of the Spring court and we got to meet his second, Lucien. I have to say I really loved Lucien from the start because he provided the comic relief to the stiff and hard to read Tam.
I enjoyed that the story was a take on Beauty and the Beast and I enjoyed Tam slowly but surely letting Feyre in and allowing her to figure out what she wanted in a life lived away from her demanding family. I enjoyed that we got to see Feyre open up and live a life of luxury. I felt more connected with her once she was away from her duties to her family and was able to experience the world that the fae had to offer. I enjoyed learning this world with her and seeing everything Tam had to offer.
I did start to feel that Feyre was having too easy of a time when the book picked up and added in some mystery and depth. I really loved when Feyre had to go under the mountain and fight for her life as well as Tam's. This really showed us what Feyre was made of and I love the interactions she had with this darker side of the courts and their magic. I also loved Rhys and the few times we  were able to spend time with him. I found him more interesting than Tam. I liked Tam but there was always something missing with him in my opinion so I loved the addition of Rhys and I am dying to know more about him.
Overall, I don't want to give away the ending of this one but I really enjoyed the ending portion of this book and I can't wait to see where everything goes. I feel like this book had a ton of world building and it was easy at times to get a little lost but I have high hopes that Maas will make the second book more character based while still moving the story along.