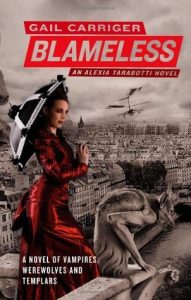 Blameless by Gail Carriger
Also by this author: Soulless, Changeless
Series: Parasol Protectorate #3
Also in this series: Soulless, Changeless
Published by Orbit
Genres: Fantasy/Historical, Romance, Steampunk
Format: Paperback
Add to: Goodreads

Quitting her husband's house and moving back in with her horrible family, Lady Maccon becomes the scandal of the London season.

Queen Victoria dismisses her from the Shadow Council, and the only person who can explain anything, Lord Akeldama, unexpectedly leaves town. To top it all off, Alexia is attacked by homicidal mechanical ladybugs, indicating, as only ladybugs can, the fact that all of London's vampires are now very much interested in seeing Alexia quite thoroughly dead.

While Lord Maccon elects to get progressively more inebriated and Professor Lyall desperately tries to hold the Woolsey werewolf pack together, Alexia flees England for Italy in search of the mysterious Templars. Only they know enough about the preternatural to explain her increasingly inconvenient condition, but they may be worse than the vampires -- and they're armed with pesto.

BLAMELESS is the third book of the Parasol Protectorate series: a comedy of manners set in Victorian London, full of werewolves, vampires, dirigibles, and tea-drinking.
There are SPOILERS for previous books…you have been warned!
I was a little upset with what happened in the second book because I missed Lord Maccon. I was hoping that the third book would bring him back into the story more and I'm a little sad to say that he was still missing for most of the novel. However, I will say that I liked Alexia's journey better in this novel.
I really enjoyed the change in scenery since Alexia's adventures took her all over the place this time and it added in new characters. I loved that everyone was after Alexia this time because they were afraid of what her being pregnant could mean for the world. I enjoyed the history and over religious tones in this one that helped the other supernaturals to fear this big change. I also loved that Alexia took all of this in stride and was able to stay strong even though her husband was not there to help her. I really felt the girl power in this book.
I really loved how things played out in this book and I'm really excited for where things are going in the future because it seems like Alexia is still going to have a few fights left to her journey and I want to see her make Lord Maccon make up with her in full fashion.