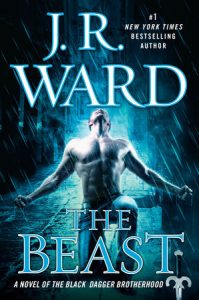 The Beast by JR Ward
Also by this author: Lover Mine, Blood Kiss
Series: Black Dagger Brotherhood #14
Also in this series: Lover Mine, The Shadows
Add to: Goodreads

Nothing is as it used to be for the Black Dagger Brotherhood. After avoiding war with the Shadows, alliances have shifted and lines have been drawn. The slayers of the Lessening Society are stronger than ever, preying on human weakness to acquire more money, more weapons, more power. But as the Brotherhood readies for an all-out attack on them, one of their own fights a battle within himself…

For Rhage, the Brother with the biggest appetites, but also the biggest heart, life was supposed to be perfect—or at the very least, perfectly enjoyable. Mary, his beloved shellan, is by his side and his King and his brothers are thriving. But Rhage can't understand—or control—the panic and insecurity that plague him…

And that terrifies him—as well as distances him from his mate. After suffering mortal injury in battle, Rhage must reassess his priorities—and the answer, when it comes to him, rocks his world...and Mary's. But Mary is on a journey of her own, one that will either bring them closer together or cause a split that neither will recover from...
There will be SPOILERS for previous books.
I really don't know how to feel about this series anymore. I love the world and I really love some of the characters but I'm starting to feel like Ward is just causing drama just for the sake of drama. There are so many men who don't have their own books and instead we are going back to show the lives of previous couples. I mean I love Mary and Rhage but I feel like there were other minor storylines in books that covered their desires to have a child. Plus once the story is set up in the beginning of the girl that Mary is watching over I knew this would be the child that they adopt. It was all just a little too easy for Mary and Rhage here even though Ward was just adding in drama for them as a couple.
I honestly enjoyed the storylines of the other couples more in this one. The glimpses of V and Jane as well as everything going on with Layla and her babies. I wish this series could more forward with more progression and that we could get some real answers. The Omega and Scribe Virgin had roles here and I really want to see how the Omega and V are going to end up against each other and where this is all going. I feel like Ward is giving us a taste of bigger things to come and I want to see them happen. I need this overall story arc to start to have a landing place, a place where things can finally come together and maybe even come to a close. There is a time and place for a series and I feel this one is starting to run out of places to go. I want some real closure and soon.