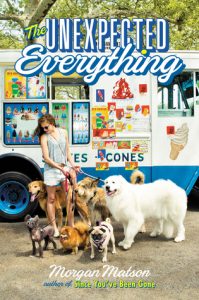 The Unexpected Everything by Morgan Matson
Add to: Goodreads

Andie had it all planned out.

When you are a politician's daughter who's pretty much raised yourself, you learn everything can be planned or spun, or both. Especially your future.

Important internship? Check.

Amazing friends? Check.

Guys? Check (as long as we're talking no more than three weeks).

But that was before the scandal. Before having to be in the same house with her dad. Before walking an insane number of dogs. That was before Clark and those few months that might change her whole life.

Because here's the thing—if everything's planned out, you can never find the unexpected.

And where's the fun in that?
I loved the sound of this book because Andie sounded like the type of person I am. She has a type A personality, she wants to work in medicine, and she plans out her free time and summers. I was completely excited to watch a girl like me in a book.
As the book started I felt like Andie was a little lacking in personality. She was trying so hard to never form any lasting connections with people due to the fact that her father is in politics but this made her feel heartless. Even with her own group of friends she seemed to be the one least interested in their plans and spending time with them.
When the love interest, Clark, joined the story I wasn't really sure what to think of him. At first he seemed like a shy nerd which was cute and endearing. As time went on Andie just always wanted to talk about his abs and how in shape he was. I'm not saying a nerd can't have a great body as well as a great brain but his character just seemed to flip flop a lot. Add in with the fact that both Clark and Andie are older but they never really seemed to want to push their relationship in any way. They were stuck in a rut for most of the later half of the book and didn't seem to hit the important milestones of a relationship.  I honestly think this was because each time something was going to happen Matson just changed the scene right in the middle of a conversation or a steamier scene. This made for quick scenes that you never got to watch play out and made the book really long enough though the storytelling was so short.
As the book was close to the end I did start to care about Andie and Clark a bit more because they were finally working things out in the end and the ending of the book helped me feel more connected to Andie. She finally seemed to gain some personality and soul near the end when she was trying to get what she wanted out of life. So I really did enjoy the end of the book but it was a bit rough getting there and I'm not completely sold on who Andie and Clark were the whole book. I do like the life lessons Andie learns and that is mostly why I gave this a higher rating than I think it really deserves overall.