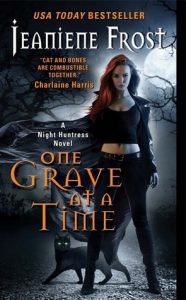 One Grave at a Time by Jeaniene Frost
Also by this author: Halfway to the Grave, At Grave's End
Series: Night Huntress #5
Also in this series: Halfway to the Grave, At Grave's End
Add to: Goodreads

How Do You Send A Killer to the Grave When He's Already Dead?

Having narrowly averted an (under)World War, Cat Crawfield wants nothing more than a little downtime with her vampire husband, Bones. Unfortunately, her gift from New Orleans's voodoo queen just keeps on giving - leading to a personal favor that sends them into battle once again, this time against a villainous spirit.

Centuries ago, Heinrich Kramer was a witch hunter. Now, every All Hallows Eve, he take physical form to torture innocent women before burning them alive. This year, however, a determined Cat and Bones must risk all to send him back to the other side of eternity - forever. But one wrong step and they'll be digging their own graves.
I've been getting back into the Night Huntress series this year and while I was more impressed with the fifth book but I did really like this one.
I really missed Cat and Bone and I forgot how magnetic they are when they are together on the page together. I love how Cat is really coming into her own now that she knows what her powers are and what she is capable of. I really like that Bones not only gets to love her but also to each her ways of being a vampire. The two of them together not only have chemistry but a loving vibe that you can't help but like.
Aside from loving Cat and Bones I did enjoy the story as well. Frost just has a way of making these paranormal mysteries and battles that you get invested in. I especially liked that this time around they had to fight a ghost, which is something they never had to do before so it was exciting to see how they were going to tackle this one. Plus there is some old religion and thoughts on burning witches in this one which adds a great historical element to this novel.
Overall, I don't want to say too much about this novel because it is so late in the series. Just know that I still like Cat and Bones and I love where they are headed together and what the author has done with these characters and the world itself.