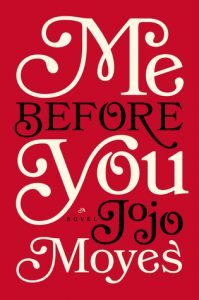 Me Before You by JoJo Moyes
Also by this author: Me Before You
Add to: Goodreads

Lou Clark knows lots of things. She knows how many footsteps there are between the bus stop and home. She knows she likes working in The Buttered Bun tea shop and she knows she might not love her boyfriend Patrick.

What Lou doesn't know is she's about to lose her job or that knowing what's coming is what keeps her sane.

Will Traynor knows his motorcycle accident took away his desire to live. He knows everything feels very small and rather joyless now and he knows exactly how he's going to put a stop to that.

What Will doesn't know is that Lou is about to burst into his world in a riot of colour. And neither of them knows they're going to change the other for all time.
There is a ton of hype around this book, especially with the movie, but I wanted to read it anyway.
I found the beginning of this book a little hard to get into because I wasn't blown away with Lou's character at the start of the novel. She seemed to be walking through life because it wasn't important to her and not really seeking out the things she wanted. She was dating a boring guy who didn't even want her and she had no real job aspirations in her small town. Once Will joins the story I have to say I was far more interested. Will's character just adds so much life and brightness to the story even though he is ill and requires constant watching and care in his condition.
I have never been a fan of male characters who make it too easy on the female leads so I loved Will. I loved that he knew what he wanted and he wasn't afraid to say exactly what that was even if it upset the people who loved him. He is a smart ass and is constantly challenging what Lou thinks should happen. I loved the dynamic between the two of them and I loved that Lou wanted to make his life the best she could.
Overall this is really a book about a relationship between two people and how Will changes Lou for the better. I will say there are hard times in this novel and if I were you I would be prepared to be emotional and swept up in this story. This is not a novel to miss as it adds to your view of life and how two people can help each other to grow.