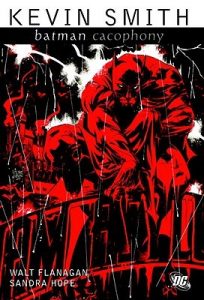 Batman Cacophony by Kevin Smith
Published by DC Comics
Genres: Comic
Format: Paperback
Add to: Goodreads

Best-selling comic book writer/director Kevin Smith (GREEN ARROW) steps into Gotham City to write this graphic novel featuring the mysterious masked killer known as Onomatopoeia who sets his sights - and sounds - against The Caped Crusader!

Will Batman be able to uncover the relationship between The Joker and Onomatopoeia in time to keep them from destroying Gotham City? Or are these villains too much for The Caped Crusader? The wild ride that caught Batman between The Joker and Onomatopoeia comes to a crashing halt as Batman is forced to choose between capturing Onomatopoeia and saving the Joker's life! Will Onomatopoeia have the final word with a deadly "Bang!"? Find out in this exciting conclusion!
During Dewey's readathon I wanted something quick to read and so Johnny suggested I try this particular Batman comic and I thought why not.
I was pleasantly surprised by this novel because I felt that Batman and Joker were at their best. In this novel Batman is trying to bring the Joker in and there is another player on the board that keeps Batman busy from this goal. However, you get to see how Joker is working through this in order to harm people in the city and Batman himself. The madness that Joker brings is always genius and this book was really great about showing not just Joker's madness but also his true feelings on being the enemy to Batman.
There is a scene in this book where the Joker and Batman are discussing why they are against each other. Batman wants answers from the Joker. The Joker replies "I don't hate you 'cause I'm crazy… I'm crazy 'cause I hate you."
This line is so powerful and shows the true madness of the Joker and what has been going on all these years. I personally think this is the best line and story between Batman and the Joker and I will never forget the line in this comic because it means everything.