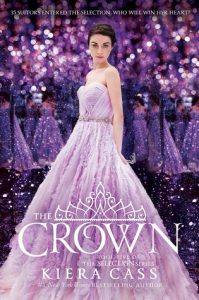 The Crown by Kiera Cass
Also by this author: The Heir, The Selection
Series: The Selection Series #5
Add to: Goodreads

When Eadlyn became the first princess of Illéa to hold her own Selection, she didn't think she would fall in love with any of her thirty-five suitors. She spent the first few weeks of the competition counting down the days until she could send them all home. But as events at the palace force Eadlyn even further into the spotlight, she realizes that she might not be content remaining alone.

Eadlyn still isn't sure she'll find the fairytale ending her parents did twenty years ago. But sometimes the heart has a way of surprising you…and soon Eadlyn must make a choice that feels more impossible—and more important—than she ever imagined.
I know a lot of people have issues with this series as a whole and they especially didn't really like Eadlyn in the first book. I agree that she could be a little annoying at times in the first book in this spin-off series but I feel she really grew in this novel.
This novel starts off right after the previous novel and now Eadlyn has her pool of gentleman narrowed down. I felt this was really helpful because in the beginning it is always hard to keep track of so many guys and when there are less it feels more manageable and you can learn more about the guys after her heart. I loved all of the guys that were left for different reasons. I especially love Hale because he just felt like the glue that could help hold all of Eadlyn's decisions together. I always loved him as a friend for her and I'm really glad with what happened with his side of the story because I kind of saw that in his personality and I'm glad I didn't read him wrong. I also really enjoyed Kile and I'm glad with the relationship he was offering to Eadlyn because it was precious and giving.
I really felt that Eadlyn grew up in this novel because she is tasked with running the country while her parents deal with her mom's health. I loved watching her set into this role even though it made her grow up a bit fast in my opinion. I just really loved some of the things Eadlyn said in this novel and her thoughts because they were what an older teen-adult needs to think about when it comes to love and moving forward in life. I really enjoyed watching her emotional journey as well as her romantic one. She finally started to think about people other than herself.
Overall, I am happy with who Eadlyn choose to marry and I'm glad she found love in the end instead of just marrying because of duty to her country. I have always enjoyed this series because they are quick reads that are just full of good things. I felt that Cass did step up the lessons about love and relationships in this book and so I can't wait to see what she will come up with next.