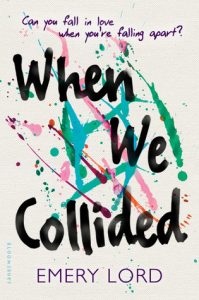 When We Collided by Emory Lord
Add to: Goodreads

We are seventeen and shattered and still dancing. We have messy, throbbing hearts, and we are stronger than anyone could ever know…

Jonah never thought a girl like Vivi would come along.

Vivi didn't know Jonah would light up her world.

Neither of them expected a summer like this…a summer that would rewrite their futures.

In an unflinching story about new love, old wounds, and forces beyond our control, two teens find that when you collide with the right person at just the right time, it will change you forever.
I really loved Emory Lord's Open Road Summer last year so I couldn't wait to read more of her stuff. Since this is her newest book I decided to pick this one up.
When the book first started I wasn't really caring about Vivi but as soon as Jonah came into the picture I knew I would like him and all of his parts of the dual POV story. I think the thing about Vivi that bothered me was that she just seemed all over the place and she always seemed to be trying too hard to get into a happy artist mood. She wants to be free and float all over the place in the book but really you see that she is fighting the chains of her mental disease. I know the point of being bipolar is that you do have those episodes of being manic and those of being depressed and feeling nothing but it was all just a little too much for me. I don't do well with topics of mental illness because I just have a hard time with them. I find most of them to be episodes of anxiety and depression for which everyone just thinks that pills are the solution.
Aside from Vivi and her manic episodes in this novel I really did love Jonah and his family and I felt really bad for him being drawn into Vivi's fucked up world. I just felt like he was better than this and so I didn't like some of the decisions he made when it came to Vivi and his sexual experiences with her in the novel. I just felt that Jonah was better than diving into the craziness. Plus their sexual experiences together were rushed and felt emotionless. Vivi was only sleeping with him because she was on a manic episode and just wanted to feel pleasure.
Maybe I sound against Vivi and I don't want to come off sounding like I don't like Vivi because of her illness… I guess I just don't understand the ideas of depression, anxiety, manic episode, etc because I don't believe in medicating people within an inch of their life to function. Everyone wants medication to deal with life and I just don't see the point.
Overall, I think there was some good writing in this novel and a few places where Lord does make her characters reflect on life in a positive way. There were some genius lines in this book about accepting what life gives you and how you can connect with people in life even if it means you will not be with them for long. Every person in our life is a chapter to add and some people stay longer than others and that is ok. We don't have to forget people just because they walked away, we can appreciate what they contributed to our stories when they were there. I thought this message was a great one and it made me appreciate the ability that Lord has to include such a huge life lesson. I just really couldn't connect well with some of the manic episodes of Vivi. I felt that Vivi and I would never get along in real life and I just couldn't deal with her. I loved Jonah because he was this stable person who was having issues with real life grief. I felt that Jonah's issues were real and I could connect with that. I felt like I could never get a read on Vivi and so she drove me crazy for the whole book and near the end I was skimming her POV sections.