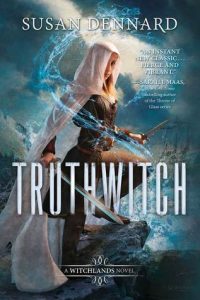 Truthwitch by Susan Dennard
Published by Tor
Genres: Fantasy, Young Adult
Format: Hardcover
Add to: Goodreads

In a continent on the edge of war, two witches hold its fate in their hands.

Young witches Safiya and Iseult have a habit of finding trouble. After clashing with a powerful Guildmaster and his ruthless Bloodwitch bodyguard, the friends are forced to flee their home.

Safi must avoid capture at all costs as she's a rare Truthwitch, able to discern truth from lies. Many would kill for her magic, so Safi must keep it hidden - lest she be used in the struggle between empires. And Iseult's true powers are hidden even from herself.

In a chance encounter at Court, Safi meets Prince Merik and makes him a reluctant ally. However, his help may not slow down the Bloodwitch now hot on the girls' heels. All Safi and Iseult want is their freedom, but danger lies ahead. With war coming, treaties breaking and a magical contagion sweeping the land, the friends will have to fight emperors and mercenaries alike. For some will stop at nothing to get their hands on a Truthwitch.

Since so many book bloggers and booktubers have been raving about this book I couldn't wait to read it. Plus it is about witches and I am always on the hunt for a great book about witches in YA since no one ever seems to want to step on Rowling's toes with a little thing called Harry Potter.
Once I started this book I did like the concept behind where the two main girls came from and how they had different types of magic and how it all worked. It was fun to see them up against nobles who they were trying to steal from. Little did the girls know that a blood witch was there and that he would be able to find them and hunt them down for what they did.
So while this first beginning opening scene was quite fun I found the rest to be quite boring. The girls make it back home just in time to tell their loved ones that they need to get far away from everything. This leads to a bunch of scenes in which they are trying to get away from the famous blood witch. All of which just felt very dull to me. I had issues with the girls and the people around them because it just felt like their personalities were lacking. Plus I felt like the story took some turns that were lengthy and didn't add much to the overall story or moving the plot lines forward.
Honestly I am DNFing this book for the fact that the girls characters never really came to life for me and the story seemed long at times without any movement forward. When you have read half a book and nothing extraordinary has happened other than a love of some blood witch that we don't know much about it is time to give up. I do love the blood witch in this story because his parts were full of mystery and emotion but I will not read an entire book or series for just one character. Plus they were already putting him in some weird love thing with both of them and I just didn't care for that direction at all.
Overall, this one wasn't for me because I felt like all of the characters, with the exception of one, were pretty boring and adding nothing new or exciting to the story line.