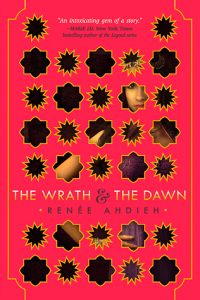 The Wrath and the Dawn by Renee Ahdieh
Also by this author: The Rose and the Dagger
Series: The Wrath and the Dawn #1
Also in this series: The Rose and the Dagger
Add to: Goodreads

One Life to One Dawn.

In a land ruled by a murderous boy-king, each dawn brings heartache to a new family. Khalid, the eighteen-year-old Caliph of Khorasan, is a monster. Each night he takes a new bride only to have a silk cord wrapped around her throat come morning. When sixteen-year-old Shahrzad's dearest friend falls victim to Khalid, Shahrzad vows vengeance and volunteers to be his next bride. Shahrzad is determined not only to stay alive, but to end the caliph's reign of terror once and for all.

Night after night, Shahrzad beguiles Khalid, weaving stories that enchant, ensuring her survival, though she knows each dawn could be her last. But something she never expected begins to happen: Khalid is nothing like what she'd imagined him to be. This monster is a boy with a tormented heart. Incredibly, Shahrzad finds herself falling in love. How is this possible? It's an unforgivable betrayal. Still, Shahrzad has come to understand all is not as it seems in this palace of marble and stone. She resolves to uncover whatever secrets lurk and, despite her love, be ready to take Khalid's life as retribution for the many lives he's stolen. Can their love survive this world of stories and secrets?

Inspired by A Thousand and One Nights, The Wrath and the Dawn is a sumptuous and enthralling read from beginning to end.
I feel that YA hasn't really impressed me in a while and so I went into this book with an open mid but also a little worried that it would be another YA book that I enjoyed but didn't love.
I was really wrong about this book and I'm glad I was so wrong.
This book just throws you into the storyline when Shahrzad becomes the new bride to a young King Khalid. This King is obviously troubled because he kills a bride every day at dawn and Shahrzad is out to stop him from ever killing another beloved daughter of the city. She is full of fire and has this confidence in herself and in her mission that just sucks you into the story. She is fierce whereas Khalid seems distant and unemotional. Khalid is such a mystery that you can't help but want to keep reading because you want to know his secrets and why he does what he does.
I love that in the opening scenes of this book Ahdieh is not afraid to go for it. She has bold writing that captivates you from the beginning and some of the scenes she writes feel so real that you feel like you are going through exactly what the characters are. There are some scenes that just rip your heart out and make you stand back with your jaw wide open in disbelief that the author dared to go that far. It adds an adult feel to her book and I certainly am not going to complain about her stepping over that line where things might go a bit too far for a YA book.
After the beginning draws you in you can't stop reading this one. The pages turn faster and faster because you want to know how Shahrzad and Khalid can possibly live together as husband and wife when they have such different agendas. I found their romance to be a good one where Khalid opened up slowly instead of all at once and Shahrzad started to fall for him slowly. I didn't feel that it was rushed and I believe that by the end they really started to understand one another.
Overall, I'm afraid to say too much because there are so many secrets and political plots in this book that to begin talking about any of them could ruin you finding it out for yourself. Just know that this was an amazing book and will probably be one of my top 10 for the year. I can't wait to read the second book and continue on this journey that was started in this book. I want to see where the story is headed and how Khalid is going to react.