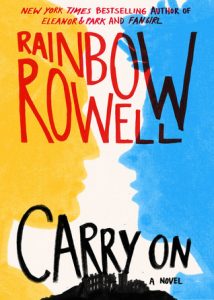 Carry On by Rainbow Rowell
Also by this author: Attachments, Fangirl
Published by St. Martin's Griffin
Add to: Goodreads

Simon Snow is the worst chosen one who's ever been chosen.

That's what his roommate, Baz, says. And Baz might be evil and a vampire and a complete git, but he's probably right.

Half the time, Simon can't even make his wand work, and the other half, he sets something on fire. His mentor's avoiding him, his girlfriend broke up with him, and there's a magic-eating monster running around wearing Simon's face. Baz would be having a field day with all this, if he were here—it's their last year at the Watford School of Magicks, and Simon's infuriating nemesis didn't even bother to show up.

Carry On is a ghost story, a love story, a mystery and a melodrama. It has just as much kissing and talking as you'd expect from a Rainbow Rowell story—but far, far more monsters.
I really enjoyed reading Fangirl. It was one book by Rowell that I was really impressed with so of course I really wanted to read Carry On since we got to see pieces of them in Fangirl.
Upon starting this book I honestly thought I was going to put it down after 40 pages. The story seemed like a bad retelling of Harry Potter. It seemed like the author was poking fun at Harry by making Simon stupid and silly in the beginning of Carry On.  I did put the book down and the next night I decided to give it a second try. I forced myself through the first part in this book. Part One of this book seems really confusing and terrible because you are joining the characters in their last year of 8 years of schooling. So basically you know nothing that has happened for seven years and this book just throws you in and expects you to know what happened. Honestly I see why people would put this down without continuing because if you don't stick it through to Part Two then you will think the book holds nothing for you.
Part Two made the story so much better because Baz came into the storyline. He might be the only reason I kept reading. Whereas Simon seemed like a dumb character who didn't have much to offer Baz was everything I would look for in a character. Baz added in the mystery to the story and he added in much needed character and plot lines that actually could make sense. Baz was emotional, strong, honest, funny, and just amazing to read from his POV. Things really only started to come together when Simon could interact with Baz. Imagine having to read Harry Potter without the Malfoy family, Draco in particular. The beginning of the story was boring because Baz wasn't there but once he came into the story everything came into focus.
From here on out the story was still a bit silly and pieced together at random points but I really started to enjoy Baz and Simon on the page together, especially once they started to form their relationship. I was worried that this book wasn't going to follow the Fangirl storyline for these two. I thought they wouldn't be gay for each other but they were and that was one up side of this novel.
Overall, this was a quirky story that is quite silly and you just have to go with those parts to read the really great parts. I do think the story could have been better and flowed better but I can't let go of the passages that I really cared about and loved. So I would say you have to go through some boring passages to get to the good stuff. I love Baz and he is a high point for me. Another high point was the fact that we actually got to see a relationship between two boys in a YA book which doesn't happen that often and when it does it is hardly the main couple of the book. Here is to Rowell for daring to write a quirky book that stems from HP but with a M/M romance. No one can say they have seen this exact story before even if it does feel like HP at times.