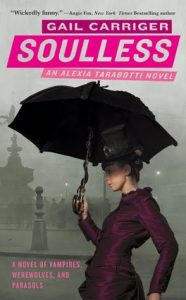 Soulless by Gail Carriger
Also by this author: Changeless, Blameless
Series: Parasol Protectorate #1
Also in this series: Changeless, Blameless
Add to: Goodreads

Alexia Tarabotti is laboring under a great many social tribulations.

First, she has no soul. Second, she's a spinster whose father is both Italian and dead. Third, she was rudely attacked by a vampire, breaking all standards of social etiquette.

Where to go from there? From bad to worse apparently, for Alexia accidentally kills the vampire--and then the appalling Lord Maccon (loud, messy, gorgeous, and werewolf) is sent by Queen Victoria to investigate.

With unexpected vampires appearing and expected vampires disappearing, everyone seems to believe Alexia responsible. Can she figure out what is actually happening to London's high society? Will her soulless ability to negate supernatural powers prove useful or just plain embarrassing? Finally, who is the real enemy, and do they have treacle tart?
This was one book that I took on my honeymoon cruise that I was really dying to finally read. I wanted to see the blend between paranormal, historical, and steampunk.
The moment this book started I was drawn in. Here was this badass looking woman with a parasol going out to experience the world, a world mind you with vampires, werewolves, and ghosts. She gets into a fight with a vampire right out of the gate and we see how strong Alexia already is and that she is going to make for one great character. If she wasn't enough to draw interest in the beginning then Lord Maccon will certainly be to your liking if you have a thing a hot muscled man who happens to be the Alpha of the local werewolf pack.
All of the initial action of this storyline gives away to a great mystery involving science and the idea of what makes up a soul and who has more of one. I really liked the fact that Alexia has no soul and the idea of who can become supernatural based on theories. I loved that Alexia wasn't afraid to jump into pack business and how she wanted to to more with her life than being a spinster who sits at home knitting. She also has a brain and cunning along with her ability to protect herself. She is one strong woman who made an excellent character. Matched with Lord Maccon in this story who is a typical Alpha and use to getting his way we have a clash of wills and words and it was awesome. I love when characters fall in love and also battle it out with each other, it makes the relationship feel real. Plus I have always said that you need great conversation and witty banter for any real relationship to work so I loved these two together.
While I did really enjoy a great many things about this book and the storyline I did feel like there is more to be said. I'm glad Alexia and Lord Maccon are getting more books together because I feel they do need to grow a bit more as a couple and that since this was only the first book there are certainly more things to learn. I also hope that with more time in this world it will take it from where it is in this first book to a huge growth in the second. I need more of this world and these characters. I also want more romance in the next book with a bit more than just kissing scenes.