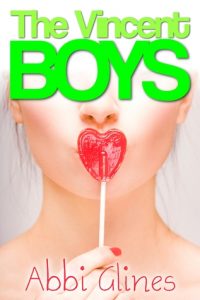 The Vincent Boys by Abbi Glines
Also by this author: The Vincent Boys
Series: The Vincent Boys #1
Also in this series: The Vincent Boys
Pages: 260
Add to: Goodreads

Ashton is getting tired of being good, of impressing her parents and playing ideal girlfriend to Sawyer Vincent. Sawyer is perfect, a regular Prince Charming, but when he leaves town for the summer, it's his cousin Beau who catches Ashton's eye. Beau is the sexiest guy she's ever seen, and even though he's dangerous, Ashton is drawn to him.

Beau loves his cousin like a brother, so the last thing he wants to do is make a move on Sawyer's girl. Ashton is off-limits, absolutely. That's why he does his best to keep his distance, even though he's been in love with her forever. When Ashton wants to rekindle their childhood friendship in Sawyer's absence, Beau knows he should say no.

Ashton and Beau don't want to hurt Sawyer. But the more they try to stay away from each other, the more intense their urges become. It's getting way too hard to resist...

I had high hopes for the Vincent Boys. I remember hearing such great things about it around when it first came out but I decided to wait to give it a read. With the past hype and solid four star Goodreads rating I figured I would fall in love with it as well. I was very wrong. The Vincent Boys was a DNF for me.
Although there wasn't really a point where the Vincent Boys had me I finally gave up half way through. I wasn't a fan of how everything started and where it was going. I didn't care for either Ashton or Beau either and without that it didn't feel right to continue.
The book started out with a solid flashback to where everything began to change for the three best friends. It was promising but fast forward to the present with Sawyer gone and Ashton feeling lonely and restricted in life (although she won't admit it out loud). It doesn't take long for her and Beau to start to become "friends" once again. Complicated love triangles aren't always annoying to read but I didn't feel any emotional struggle with what was going on and I didn't feel anything beyond the two lusting after each other.
I felt awful for Sawyer without even getting to know his character. He did show up before I put it down for good but wasn't compelled enough to keep going forward. I really wanted to feel something towards the character and I wanted to give them the benefit of the doubt but I didn't feel a connection to their so called romance which made it impossible to enjoy the book. It may have been redeemable later on it might not have been but I just wasn't up for taking any more time to find out.