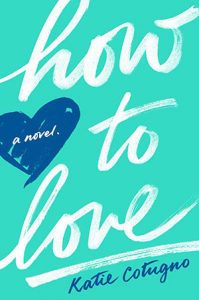 How to Love Add to: Goodreads

Before:
Reena Montero has loved Sawyer LeGrande for as long as she can remember: as natural as breathing, as endless as time. But he's never seemed to notice that Reena even exists until one day, impossibly, he does. Reena and Sawyer fall in messy, complicated love. But then Sawyer disappears from their humid Florida town without a word, leaving a devastated—and pregnant—Reena behind.

After:
Almost three years have passed, and there's a new love in Reena's life: her daughter, Hannah. Reena's gotten used to being without Sawyer, and she's finally getting the hang of this strange, unexpected life. But just as swiftly and suddenly as he disappeared, Sawyer turns up again. Reena doesn't want anything to do with him, though she'd be lying if she said Sawyer's being back wasn't stirring something in her. After everything that's happened, can Reena really let herself love Sawyer LeGrande again?

In this breathtaking debut, Katie Cotugno weaves together the story of one couple falling in love—twice.
I'm not even really sure where to start with this book. I had really high hopes for it because it sounded like a love story that had some bumps and then had a chance to start new. I was under the assumption that the characters were in their 20s when they reconnected instead of still teenagers and I feel that impression alone made this book a bit off kilter for me.
Reena in the before chapters of this book felt like a smart girl who knew what she wanted if not a little immature when it came to love. She only ever really seemed to have a crush on a guy who was never going to be good enough for her, Sawyer. I have to say in the before chapters Sawyer is made out to be the cool guy who is doing drugs and skipping class. I guess I really had an issue with this because that is never the type of guy I would ever go for, even if I was 16 and a little silly about ideals of love. Sawyer was the bad boy that all the girls wanted but I guess I just didn't really feel it with him. I really didn't get much out of these before chapters because I felt they were just there to explain away how Sawyer left Reena when she was pregnant with their child.
In the after chapters I felt that Reena and Sawyer had grown up but it was weird that she was only about 18 in these later on chapters. I expected her to be a little older and a little wiser when it came to matters involving Sawyer. I have to say she did fight her feelings for him but it felt like she just was able to fall back into a pattern with a guy who up and left her a few years previously. I just didn't really feel the connection between these two and didn't get why Reena would want to be back with Sawyer other than the fact he was her high school crush.
Overall, I feel like no one really learned anything from this whole book. They were together when they were younger and then spent some time apart due to circumstances and then got back together as soon as they were in the same little town together. I felt there was no magic in that, it was just going back to what was there and easy. Sometimes walking away and staying away are harder but they help you achieve you goals better. I don't think Reena made the right choice in the end.