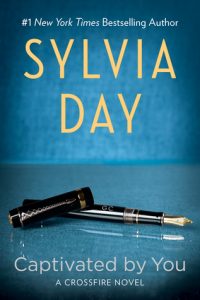 Captivated by You Series: Crossfire #4
Add to: Goodreads

Gideon calls me his angel, but he's the miracle in my life. My gorgeous, wounded warrior, so determined to slay my demons while refusing to face his own.

The vows we'd exchanged should have bound us tighter than blood and flesh. Instead they opened old wounds, exposed pain and insecurities, and lured bitter enemies out of the shadows. I felt him slipping from my grasp, my greatest fears becoming my reality, my love tested in ways I wasn't sure I was strong enough to bear.

At the brightest time in our lives, the darkness of his past encroached and threatened everything we'd worked so hard for. We faced a terrible choice: the familiar safety of the lives we'd had before each other or the fight for a future that suddenly seemed an impossible and hopeless dream...
The books in this series really surprised me over the years with how much I really loved them and how much the crazy balls to the wall storyline of their love worked for me. I don't know what it is about this drama filled relationship but I keep coming back for more each time.
I feel this book can almost effortlessly be broken down into what I liked about it and what I really felt wasn't working at this point in the series.
Liked:
~The characters- Gideon still makes me happy and I love his attitude and his willingness to get what he wants from a business standpoint as well as a relationship one. I really loved his growth in this series and the moments he let go in this book and asked Eva for more than she had ever given before. The moment in this novel where he throws his glass against the wall where Eva is tied up was a game changer. I loved how he pushed her in this novel to give him more than she ever did before. ~ The side characters- I love Eva's friends and I love that they were always there for her and I wish that Carey could get what he wants from his life.
Didn't Like:
~ The Plot- The plot got way out of hand in this book. Gideon and Eva seemed to be on this repetitive cycle that would just not end. I felt they were together and then apart and together for sex and then apart. They argue over similar things that they argued over in previous books and Eva allows herself to be hurt by simple things that she knows is just how Gideon is. I mean come on girl if you don't like him the way he is then take a hike. Gideon is mostly going to remain his slightly damaged self and if Eva can't accept that and all of his past women/relationships then she needs to move on already. ~ The Sex Scenes- Most of the sex scenes in this book were very quick with little to no detail which is not what I expect from and erotic romance novel. This made it all feel stale and the fact that it happened almost every chapter was again repetitive and became boring. There were two scenes out of the 100 that happened that were actually worth their weight in gold but these happened towards the end of the novel when as a reader you already knew in your head that this was not the best book in the series.
Overall, this book ended strong and had a few key scenes to the relationship but as a whole it fell flat and had some issues with being something that didn't really advance the story forward. It is time for the couple to stop resorting to sex and actually face their issues.