My Music in 2015
In addition to being a book addict I am also a music junkie. I am sure you would all agree with me when I say there are worse things to be addicted to. I know we are almost a month into 2016 but I still wanted to share what I listened to in 2015. I listen to a majority of my music on Spotify and I love that they compile your year in music for you. Here was mine.
I started my year out with R.I.P by Rita Ora. I decided it would be my them song for the year. That ended up being true for about the first week and then I totally forgot about it until it came up on my year in music.
In the end the following artists & albums ended up dominating my year…
I am so excited to see Melanie Martinez this year
It seems like so many minutes but in the span of a year I guess I am not that surprised I listened to…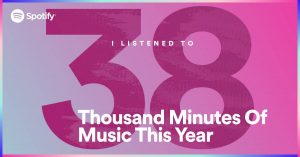 I am surprised to find out that I listened to the same song 6 times in the same day.
It is a great song. Check it out here.
Check out my music through the seasons and my top played songs.
I love music of all kinds so bring on the suggestions!