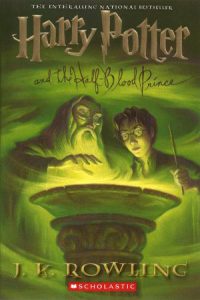 Harry Potter and the Half Blood Prince Series: Harry Potter #6
Also in this series: Harry Potter and the Sorcerer's Stone by JK Rowling, Harry Potter and the Chamber of Secrets
Add to: Goodreads

It is the middle of the summer, but there is an unseasonal mist pressing against the windowpanes. Harry Potter is waiting nervously in his bedroom at the Dursleys' house in Privet Drive for a visit from Professor Dumbledore himself. One of the last times he saw the Headmaster was in a fierce one-to-one duel with Lord Voldemort, and Harry can't quite believe that Professor Dumbledore will actually appear at the Dursleys' of all places. Why is the Professor coming to visit him now? What is it that cannot wait until Harry returns to Hogwarts in a few weeks' time? Harry's sixth year at Hogwarts has already got off to an unusual start, as the worlds of Muggle and magic start to intertwine...
While the 5th Harry Potter book didn't wow me in the way it usually does when I do a re-read, I'm happy to say this one did wow me more than the original time I read it. You see I have never re-read HP #6 or #7. That's right I only read these two books when they were first released and I wasn't impressed back then so I never re-read them. Now I'm sorry that I didn't re-read this book sooner.
Due to the fact that I haven't re-read this book since the original publication I don't remember a lot of the little details of this novel. I was highly impressed this time around because I felt this book did have a bit of everything. Now people believe Harry Potter when he says the Dark Lord is back and everything has turned out to be a little less drama from fellow classmates. While that may be the case I truly feel that in this book Harry is a little more on his own than he was when he was on the outs in the previous novel. When you pay attention in this book you see that Harry is really taking great steps to figure things out on his own. He is trailing Malfoy in this novel so he can figure out what he is up to while Ron and Hermione are back to sort of fighting with one another due to relationship issues. Not only is Harry on his own with that but he is on his own a lot with Dumbledore.
I feel the movies paint the picture that Dumbledore doesn't really care about Harry and that Dumbledore wants to distance himself from the issues. Almost as if he wants Harry to die in this big fight. I don't like that that is the feel of Dumbledore in the movies because I feel that is opposite of how this book really is. In this novel Dumbledore is certainly strict with Harry but that is because he wants Harry to take this seriously and finish what he starts. I loved all of the meetings and past memories they get to explore. It takes this book to a new level because now we get to see all of these pieces into the Dark Lord's work and his magical ability. I loved learning about the past and how this was going to shape the future.
Aside from the bigger things in this novel I enjoyed the smaller interactions as well between Harry and Ginny. I liked seeing more inside Harry's head for once even though this entire series is about him I feel we don't get to often feel what he is feeling. I just loved all of the little pieces in this book that brought everything together. I have to say I really liked this book a lot more this time than when I read it many years ago.