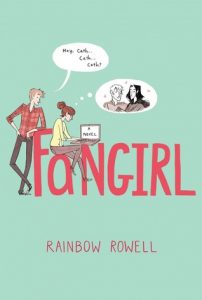 Fangirl by Rainbow Rowell
Also by this author: Attachments, Carry On
Published by St. Martin's Press
Read in: December 2015
Add to: Goodreads

A coming-of-age tale of fan fiction, family and first love.

Cath is a Simon Snow fan.

Okay, the whole world is a Simon Snow fan...

But for Cath, being a fan is her life—and she's really good at it. She and her twin sister, Wren, ensconced themselves in the Simon Snow series when they were just kids; it's what got them through their mother leaving.

Reading. Rereading. Hanging out in Simon Snow forums, writing Simon Snow fan fiction, dressing up like the characters for every movie premiere.

Cath's sister has mostly grown away from fandom, but Cath can't let go. She doesn't want to.

Now that they're going to college, Wren has told Cath she doesn't want to be roommates. Cath is on her own, completely outside of her comfort zone. She's got a surly roommate with a charming, always-around boyfriend, a fiction-writing professor who thinks fan fiction is the end of the civilized world, a handsome classmate who only wants to talk about words... And she can't stop worrying about her dad, who's loving and fragile and has never really been alone.

For Cath, the question is: Can she do this?

Can she make it without Wren holding her hand? Is she ready to start living her own life? Writing her own stories?

And does she even want to move on if it means leaving Simon Snow behind?
I once tried to read Eleanor and Park by Rowell and found it very boring. After that bad experience with her work I put off reading the rest of her books, afraid that all the others would be just as slow and boring. I'm glad I finally picked up a different book by her because I connected with this one so much more.
I feel that if you are going to read this story you have to like character driven books because there isn't much outside of the characters and what is going on in their lives and how they connect with each other. I happen to love books like this so I connected with the story. I enjoyed Cath, the main character, because she reminded me a little of myself.  I have never been one to want to spend all my time going out and I spent most of my college years going to school, work and home. Sure I managed a boyfriend inbetween all of that but I didn't really have a huge grouping of friends and I certainly never found myself at parties. I have never actually even had a sip of alcohol in my life so you can see why I would get along with a main character who was a shut-in. I also loved that Cath wasn't out there trying to experience everything at first. I liked that for once an author gave us a main character who wasn't out there conquering the world. So many characters in so many books are always out for an adventure and that is exciting but sometimes you feel like reading something similar to real life.
Aside from Cath and all of her similar personalities traits I enjoyed the characters around her as well. I really liked Levi for the fact that he was different. He wasn't this strong silent male character out to impress the girl with his sexual skills. He was a down to earth guy who made mistakes and was a bit of a nerd. I liked the fact that he didn't always say or do the right thing, it made him feel more like a real person instead of some buff fake guy. I mean don't get me wrong I also love many male characters who are buff, sexual, mysterious, etc but Levi didn't need all of that to make his character interesting and sweet.
Overall as I said before this is a character driven novel. You really have to like the characters for this to work for you. I happened to really enjoy the characters and all of the real life situations they found themselves in. I loved the struggles of this novel and the growth of each and every character on the page. I enjoyed being mad at Levi or upset with Nick's blatant disregard for personal property as much as I enjoyed the kisses, the family drama, and the changes in attitude. I do have to say the one thing that kept this from being 5 stars for me was the fact that the ending was really rushed and I also would have enjoyed a bit more sexual tension between Levi and Cath. I wanted them to share a few more stolen kisses and share some more of their passion with the reader. They are 18 and 21 in this novel and I expected just a touch more heat.