Every once in a while I come across a book I just can't finish. I feel like this has been happening more lately. I just have realized I have so many books I want to read why waste that time if I am not enjoying the book? Since I know we all have different tastes in books though I still wanted to share these books and some thoughts on what I had read of them. They may not have been for me but maybe you will find your next great read.
The Girls Guide to (Man) Hunting
by Jessica Clare
Series: Blue Bonnet #1
Pages: 236
Add to: Goodreads
Once, Miranda felt a little exposed…

Miranda Hill can't believe her eyes—her cocky ex-boyfriend, pro-hockey player Dane Croft, is back in Bluebonnet, Texas, after all these years. He ditched her – and their little town – just as some rather shocking photos showed up on the internet for the whole town to see. Miranda wasn't so lucky. Stuck in Bluebonnet and left to fend for herself, she's never really shaken the scandal — or his betrayal. After nine long years, he's back, and she has the chance to turn the tables on Dane…

It's time she got even.

Former NHL hotshot playboy Dane Croft has returned home to open a survival training school on an old ranch, and reinvent himself. When his former high school girlfriend enrolls in his school, he has no idea that Miranda's plan is to get him in a compromising position—not the one he's imagining, anyway. But soon Miranda realizes that to carry out her deviously sexy revenge, she'll have to get up close and personal with Dane all over again. Being a good girl got her nowhere for nine years, and now it's time to be a little naughty. But falling in love with the man that broke her heart was never part of the plan….
Why I Picked it Up:  I bought this book ages ago at Wal-Mart. It was super cheap and sounded like it would be a fun read.  I was hoping to find some tension, humor, a little steam and of course romance in this one. I was looking forward to reading about Miranda and her plans to get revenge on  the man, Dane Croft, she would undoubtedly end up with any way. Bring on the fun.
Why I Put it Down: A Girl's Guide to (Man) Hunting was not was I expecting at all. I didn't care for Miranda after all. Her plans didn't make sense to me and I felt like she was being childish. By no means is what happened to her okay. She didn't deserve something like that. She has the right to be pissed about it for the rest of her life but her way of dealing with it years later just didn't make sense.  Who thinks "I am totally going to get revenge by sleeping with him" and that's about where your plan ends? I know her plan was to get him in a compromising situation but from what I read her plans didn't really progress pass seducing the man. I am not one to complain about too much steam in a book but I just didn't care for these two and it felt like that was the only thing happening. In the end I just couldn't read any more and had to put it down.
Sublime
by Christina Lauren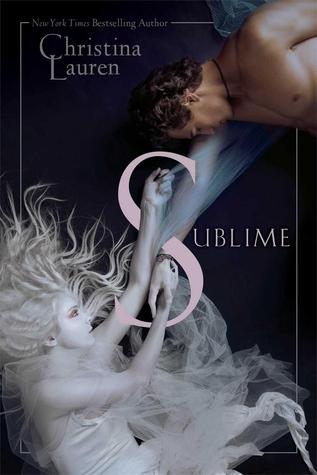 Pages: 336
Add to: Goodreads
When Lucy walks out of a frozen forest, wearing only a silk dress and sandals, she isn't sure how she got there. But when she sees Colin, she knows for sure that she's here for him.

Colin has never been captivated by a girl the way he is by Lucy. With each passing day their lives intertwine, and even as Lucy begins to remember more of her life—and her death—neither of them is willing to give up what they have, no matter how impossible it is. And when Colin finds a way to physically be with Lucy, taking himself to the brink of death where his reality and Lucy's overlap, the joy of being together for those brief stolen moments drowns out everything in the outside world. But some lines weren't meant to be crossed…
Why I Picked it Up: I have loved every single Christina Lauren book I have read. They had all been adult books but I had no doubts about wanting to read the YA book they had written. It sounded so intriguing and I was looking forward to the mystery that is Lucy and the suspense that would no doubt come with their relationship.
Why I Put it Down: Sadly I just had to put down this book. I was so sad because I love this writing duo but in the end this story just wasn't for me. The concept was still very interesting and I wanted to know why Lucy was there and how she was even wandering around. I wanted to know how her and Colin's relationship would play out. It is hard for me to pinpoint exactly what didn't work for me with this one. It isn't an especially long book but sometimes i felt like I was dragging along as I read it. My attention span just wasn't up to par with this one which made it hard for me to fall in love with the characters and the story. I didn't really dislike anyone and at times still wanted to push forward to see how it would all end but when it came down to it Sublime just wasn't holding my attention and I had to move on.