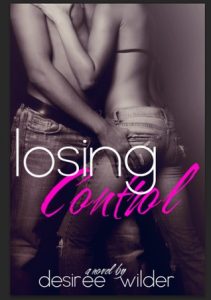 Losing Control by Desiree Wilder
Format: eBook
Read in: April 2nd, 2015
Add to: Goodreads

Gia feels broken inside after several miscarriages and a failed marriage. Now she's just looking to have some fun…

During her marriage, she and her husband tried for several years to have a baby, she got pregnant three times and miscarried all three. Her husband couldn't bear to give up his dream of having a family so they grew apart and eventually divorced. Gia feels like a total failure since she couldn't carry a child. But now, it's time to move on. She just wants to have a little fun. She needs to have a little fun. Secretly hoping of a wild sexual encounter with someone who craves to devour her inch by inch, she and a group of her closest friends set out to have a wild weekend at a rock festival which they look forward to every year. This is what she wants and what she needs, but is she really ready for this?

Ethan has been working too hard for the past ten years to have a serious relationship, but he's always fantasized about one woman…

Ethan's put his heart and soul into this venue and this year it looks like he might finally make a profit. Each year it hosts a rock festival and every year he looks for one person, the same person, the problem is he doesn't know anything about her, he doesn't even know her name. Finally he meet's her and she's everything he always hoped for, except for one thing…she seems to be looking for a wild sexual encounter. This causes a bit of a dilemma since all he really wants is to get to know who this mystery woman is. He needs to know who she is. While trying to fulfill her every desire he gives her the most carnal sexual experience of her life, hoping she will open up to him and give him a chance to discover who she truly is.
I was so looking forward to Losing Control. I was ready for a quick adult read. The fact that it was going to take place at a rock festival was a major bonus in my eyes. Love some music involved in my books. I was looking forward to a little romance and of course a little steam. Unfortunately, it just didn't live up to what I was expecting. Some shorter stories can be really great but it can be hard to feel a connection in such a short time. I just couldn't connect with Gia and Ethan. I know there isn't time for much of a build up in such a short time but it was just all so instant   and I just wasn't into it. 
Gia's story is a sad one though and I did like the idea of her taking charge of herself, just trying to have fun and a good time with her friends. I enjoyed their dynamic and think I would have enjoyed getting to know them more.
Overall, still a quick read but not what I was expecting.