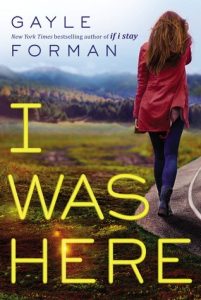 I Was Here by Gayle Forman
Also by this author: If I Stay, Where She Went
Genres: Young Adult
Format: Hardcover
Read in: March 2015
Add to: Goodreads

Cody and Meg were inseparable.
Two peas in a pod.
Until . . . they weren't anymore.

When her best friend Meg drinks a bottle of industrial-strength cleaner alone in a motel room, Cody is understandably shocked and devastated. She and Meg shared everything—so how was there no warning? But when Cody travels to Meg's college town to pack up the belongings left behind, she discovers that there's a lot that Meg never told her. About her old roommates, the sort of people Cody never would have met in her dead-end small town in Washington. About Ben McAllister, the boy with a guitar and a sneer, who broke Meg's heart. And about an encrypted computer file that Cody can't open—until she does, and suddenly everything Cody thought she knew about her best friend's death gets thrown into question.

I Was Here is Gayle Forman at her finest, a taut, emotional, and ultimately redemptive story about redefining the meaning of family and finding a way to move forward even in the face of unspeakable loss.

I really enjoyed If I Stay and even Where She Went when I read them last year so I couldn't wait to gobble up this newer release by Forman.
The moment I started reading this book I wasn't overly impressed. The tone of the book was sort of dreary and grey. There wasn't much going on in the way of character development other than the fact that we know Cody's best friend Meg killed herself and no one seems to know why.
Now I'm not the sort of person to stop reading a book just because there is a death in the book or rough topics such as a suicide so I thought I would be ok to go into reading this book. I wasn't even really that bothered by the simple fact that Meg is dead when this book starts, I was bothered by how it was handled in the book as we went forward. You see what I mean by the book being drab and grey was that Cody wasn't a very likable person from the start. She seemed to just simply exist and didn't even really show that much compassion for the fact that her best friend of many years was dead. Instead she just goes along in the story with no real direction and no real emotion. Hello your friend just killed herself I think we should be showing some emotion. I guess it was also hard for me to be emotional about the story because we don't even get to meet Meg, she is just already gone when the story starts so there is no bond there that was broken, no established connection.
From here the story gets worse because soon Cody decides it is completely alright to see a guy that Meg was previously dating and sending creepy emails to when she died. As we go a little further Cody starts to find out things about Meg and these things and conversations that she hears about just seem stupid as a plot line to me so I gave up on the book about half way through.
This is a DNF book for me. It makes me sad to do it because I highly enjoyed If I Stay but this just wasn't a book for me.