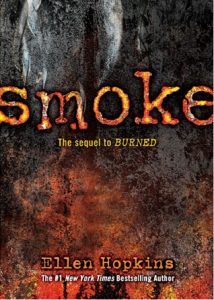 Smoke by Ellen Hopkins
Also by this author: Burned, Smoke
Series: Burned #2
Also in this series: Burned, Smoke
Published by Margaret K. McElderry Books
Genres: Young Adult
Pages: 560
Format: Hardcover
Read in: 2/2/2015
Add to: Goodreads

Pattyn Von Stratten's father is dead, and Pattyn is on the run. After far too many years of abuse at the hands of her father, and after the tragic loss of her beloved Ethan and their unborn child, Pattyn is desperate for peace. Only her sister Jackie knows what happened that night, but she is stuck at home with their mother, who clings to normalcy by allowing the truth to be covered up by their domineering community leaders. Her father might be finally gone, but without Pattyn, Jackie is desperately isolated. Alone and in disguise, Pattyn starts a new life, but is it even possible to rebuild a life when everything you've known has burned to ash and lies seem far safer than the truth?
Ellen Hopkins has never completely disappointed me. She is an amazing writer and creates spectacularly heart breaking stories. You can always expect so much love and loss in her books. So many emotions accompany finishing one of her books. I hope to one day read every book she has written or writes in the future. I have a bit of an obsession. She has to be one of my top favorite authors.
I read Burned ages ago. It was some time during my high school years. I loved it but was not satisfied with how things ended. What was next for Pattyn? She wouldn't end it there would she? Although, it didn't surprise me that that would be the end of reading her story I was still hoping for more. I was ecstatic to learn that Ellen Hopkins wrote a sequel. Would it live up to the first?
I find that it isn't that often that a sequel is better than the first but they can be just as enjoyable. I read Burned so long ago but it has to be my favorite of the two. Pattyn and Jackie come from a very religious, very imperfect family. They have been stifled their entire lives and after some tragedies in Burned are more confused than ever. Can they ever truly be free? They are burdened by thoughts of the past and what is yet to come.
I enjoyed getting to read more about Jackie. She needed more advocates in her life. Needed someone to actually take care of her but instead she had a lot going on with little support. Getting to read about her journey getting through these things made me both very sad for her but brought some smiles as well.
I truly wanted things to get better for Pattyn. I was hoping that this would be it. It was time for her to get her HEA. I know not to expect perfectly happy endings in an Ellen Hopkins book but i was hoping Pattyn would not have to be a part of too much more tragedy. Getting to ready about Pattyn's journey after losing everything most dear to her was a highlight. It wasn't perfect. I felt the ending was a little much but the story as a whole was great.