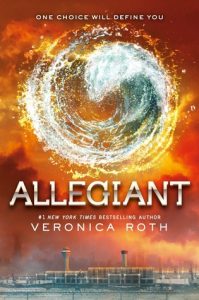 Allegiant by Veronica Roth
Also by this author: Allegiant, The Transfer
Series: Divergent #3
Also in this series: Allegiant, Insurgent
Published by Katherine Tegen Books
Genres: Dystopian, Young Adult
Format: Hardcover
Read in: January 2015
Add to: Goodreads

The faction-based society that Tris Prior once believed in is shattered--fractured by violence and power struggles and scarred by loss and betrayal. So when offered a chance to explore the world past the limits she's known, Tris is ready. Perhaps beyond the fence, she and Tobias will find a simple new life together, free from complicated lies, tangled loyalties, and painful memories.

But Tris's new reality is even more alarming than the one she left behind. Old discoveries are quickly rendered meaningless. Explosive new truths change the hearts of those she loves. And once again, Tris must battle to comprehend the complexities of human nature--and of herself--while facing impossible choices about courage, allegiance, sacrifice, and love.

Told from a riveting dual perspective, Allegiant, by #1 New York Times best-selling author Veronica Roth, brings the Divergent series to a powerful conclusion while revealing the secrets of the dystopian world that has captivated millions of readers in Divergent and Insurgent.
After reading the first two books in this series I still didn't really get all of those feelings I wanted to have. Everyone seemed to really love the first two books and I felt left out because I liked them but I never fell in love. When I started this third and final book in the trilogy I went into it expecting a good story but not one I would love. I guess you could say I didn't let myself get too excited for this final book which looking back on it was really silly of me. I loved this book! It was the best one in the entire series and I just wish I would have had this love for the entire series instead of just the last book. Also some big and shocking things happen in this third and final book that pissed a lot of readers off and yet those twists really worked for me.
As always I really enjoy the characters in this series. All of them, even the barely mentioned secondary characters, really draw me in. I like how all of them approach their situation with different attitudes and a different style of thinking because it added a lot of dimension to the characters. I still love Four and I honestly felt that this book was suppose to be his book. I know he is only finally telling us half the story from his perspective in this one but I feel like we finally see the real Four. We see how he is a little unsure of himself and that he has issues like the rest of the world. I felt that in the first two books his character always had to be the tough and strong one because Tris was growing and learning to be a kick-ass heroine. I feel that in this last book we get a Tris who is ready to take on the world and we finally get to see Four buckle under the pressure a little. I just really enjoyed seeing this side of him and wanted it explored even more.
As for the plot that was just downright awesome! I loved where Roth took this series and the twists and turns. My boyfriend is getting his Masters in history so him and I tend to talk about a lot of different aspect and battles of history and I loved how Roth brought that into this one. It was truly fascinating to think what if the world was this way. What if the real history of the world was hidden from people and they were made to believe that this was all there ever was. I found it very amazing to view things from a perspective where history was hidden or changed. No I'm not a huge history buff but the idea of having almost no past experiences other than the few the government shoved at the characters in this novel was interesting.
Overall, I can't even really say everything I want to say without including spoilers and such. I do have to say the characters were exactly where I think they needed to be. Sure I cried at the end and it brought about all of these feelings but I feel the ending was what needed to happen.