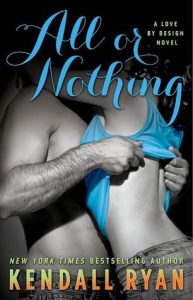 All or Nothing Series: Love by Design #3
Also in this series: Working It, Craving Him
Format: Paperback
Read in: December 2014
Add to: Goodreads

You've met Ben Shaw. Now meet Braydon Kincaid, the devil-may-care male model who nearly stole the show in Working It by New York Times bestselling author Kendall Ryan.

As one of the world's most sought-after male models, Braydon is no stranger to the finer pleasures in life. The last thing he wants to do is limit himself, especially when it comes to women. His best friend, Ben, might've settled down, but Braydon doesn't want to waste his youth on the messy complications of commitment. He wants fun. He wants easy.

Ellie isn't looking for a casual relationship, but her tough and sassy personality instantly attracts Braydon, who proposes a "friends with benefits" arrangement. Unable to resist the powerful pull of the charming bad boy, Ellie eventually relents, though she longs for all-consuming love.

As the two spend more time together, Ellie soon realizes that Braydon's posing skills extend off the runway. His carefully crafted façade masks a secret hurt that he's reluctant to share with Ellie, even as they embark on a passionate affair that sends them hurtling toward a fate neither expected. Can Ellie risk her heart while she waits for Braydon to let her in, or will she be forced to demand all or nothing?
The second book in this series was good but I did have some issues with it. That book didn't feel as true to real life as it could be but I'm happy to say that Ryan has captured my attention again with this book.
I enjoyed this book from the start because Ellie and Braydon seemed like opposites who didn't really want to sleep together yet that is where they found themselves at the wedding. I enjoyed their opposite sides attitudes and I loved that Ellie stuck to what was true to her character. Her character always did things the way she wanted to and she didn't really take any shit from Braydon. I also loved that she seemed to deal with problems and emotions that any woman would deal with when falling in love. I loved her convictions and that she just felt real to me.
I also loved Braydon because you could tell that he was a great guy who was hiding who he really was from Ellie. I mean he was there for many events that suggested he cared more for Ellie than he let on. I loved watching him suffer when he was around Ellie and she wanted nothing to do with him. I loved watching him have to work to win over the girl instead of just having his way with her every other page. I guess what I enjoyed the most about this book was that both of these main characters felt real and their reactions and emotions felt true.
Overall, I don't want to ruin any of the plot of this one but it was great all around. Just the right amount of steam, romance, and true world problems and feelings. I just wish this one had been longer because it was by far my favorite of the series. More Ellie and Bray please!