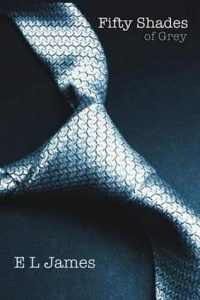 Fifty Shades of Grey by E.L. James
Series: Fifty Shades #1
Published by Vintage Books
Pages: 356
Format: Paperback
Read in: 1/4/2015
Add to: Goodreads

When literature student Anastasia Steele goes to interview young entrepreneur Christian Grey, she encounters a man who is beautiful, brilliant, and intimidating. The unworldly, innocent Ana is startled to realize she wants this man and, despite his enigmatic reserve, finds she is desperate to get close to him. Unable to resist Ana's quiet beauty, wit, and independent spirit, Grey admits he wants her, too—but on his own terms.

Shocked yet thrilled by Grey's singular erotic tastes, Ana hesitates. For all the trappings of success—his multinational businesses, his vast wealth, his loving family—Grey is a man tormented by demons and consumed by the need to control. When the couple embarks on a daring, passionately physical affair, Ana discovers Christian Grey's secrets and explores her own dark desires.

Erotic, amusing, and deeply moving, the Fifty Shades Trilogy is a tale that will obsess you, possess you, and stay with you forever.
When I first noticed everyone talking about Fifty Shades of Grey I immediately added it to my tbr list but then there were comments everywhere from, "I loved it! to "this is the most disgusting thing I've ever read" so although it made it even more intriguing I decided to put off starting it. With all the great books out there it just kept getting pushed down my tbr list. Several people I know read it and then the news broke that it would be turned into a movie. Even people who are not big readers knew what 50 Shades was and assumed I had read it and asked if I liked it. Friends/family who enjoyed it would remind me that I still needed to get to it. I ended up having a two week break, then ended up getting sick once again, and saw it on my cousins shelf so figured it was the perfect time.
Although at times it seemed like a long book I finished it in a couple days. It had it's faults but there were times a couldn't put it down. Not because I loved it that much but I couldn't pull myself away from their crazy train relationship. I will get back to their relationship in a moment but first I figured I'd fill you in on some of the things that really bugged me while reading 50 Shades. I found it really repetitive. I found parts to be cheesy and wanted to roll my eyes at the mention of Anna's inner goddess. I am also glad there was not too much description of Anna's school, although cool to see your alma-mater mentioned in a book I'm sure I would be picking that apart as well.
What intrigued me was Anna and Christians relationship. I know a handful of people say this book is garbage or disgusting but I feel even if you don't agree with the lifestyle or what is happening in the story there is something there to dig into and analyze. Something to pull apart, try to decipher, or just put your own opinions into. There are a lot of things that I enjoy watching, reading, and listening to that I wouldn't put into practice in my own life but still find them entertaining. Sorry, I am getting on tangent.
I enjoyed reading about Christian and Anna's relationship. I wanted to see how far things would go. How much each was willing to change to make their relationship work. I found myself trying to gauge where the breaking point would be. How long can one put up with the BS demands of a man when they are not eager to be a part of that lifestyle? Then there is trying to figure out how this man came to be. We get a piece of the story on how he was introduced to the world of bdsm but he often responds to questions with the fact that he is fucked up and to him that is enough explanation. Besides that not too much information is given and although he did have his moments overall I did not find myself swooning for him.
Even though I won't be pining away for a Christian Grey of my very own I will continue to follow his and Anna's story. It is a bit addicting and there is just too much I want to uncover.