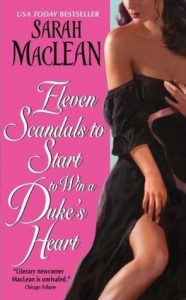 Eleven Scandals to Start to Win a Duke's Heart by Sarah MacLean
Series: Love by Numbers #3
Published by Avon
Genres: Historical Romance
Format: Paperback
Read in: December 2014
Add to: Goodreads

There is no telling where a scandal might lead...

She lives for passion.

Bold, impulsive, and a magnet for trouble, Juliana Fiori is no simpering English miss. She refuses to play by society's rules: she speaks her mind, cares nothing for the approval of the ton, and can throw a punch with remarkable accuracy. Her scandalous nature makes her a favorite subject of London's most practiced gossips…and precisely the kind of woman the Duke of Leighton wants far far away from him.

He swears by reputation.

Scandal is the last thing Simon Pearson has room for in his well-ordered world. The Duke of Disdain is too focused on keeping his title untainted and his secrets unknown. But when he discovers Juliana hiding in his carriage late one evening–risking everything he holds dear–he swears to teach the reckless beauty a lesson in propriety.

She has other plans, however; she wants two weeks to prove that even an unflappable duke is not above passion.
I read the first book in this series a while back and really loved it. Earlier this year I read the second book and it was good but it didn't impress me as much as the first book. I'm happy to say this book went in the vein of the first book.
The instant I started this one I was in love with Simon and Juliana! Juliana in particular is entirely the type of woman I would have loved to be in this society. She is bold, loving, fierce, and full of passion and life. She didn't really fit in to the world around her and why on earth would you. The ton is full of pretentious people who just want to put her down for being different and not from their world. I loved how she always did something to make herself stand out. She didn't want to just blend in with all the other boring ladies of the ton and I loved her defiance. In contrast to her Simon was all about following the rules and even though he had a hard exterior he was a softy on the inside with a heart of gold.
Their romance was one I was so excited about because I always love those romance novels where the two main characters are at odds with each other. That was the type of romance that this book provided. I loved watching Simon and Juliana battle out their love and see all of the emotions and feelings from both parties since the story is told in both POVs. I also really connected with Juliana's feelings in this book. Each blow felt like a blow to my own heart and I felt every emotion she felt which was powerful and amazing. I also felt for Simon most of the time and his feelings of duty vs love. I enjoyed the banter and the struggles they had to face as it felt like a real romance where a real couple is faced up against real problems that needed to be fixed before they could be together.
Overall, I also loved all of the secondary characters in this story because they were all the characters from the first book and I loved seeing them all again to check in with them and their stories. The romance in this one was perfect and I loved every minute of it. I read this book in about 24 hours because I couldn't stop myself once I started. If you are looking for a great historical romance series go no further than Sarah MacLean.