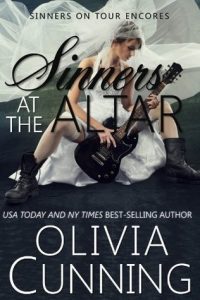 Sinners at The Alter Series: Sinners on Tour #6
Pages: 409
Format: eBook
Read in: December 24th, 2014
Add to: Goodreads

Even Sinners need love...

Sinners at the Altar includes four complete wedding stories, each about a different member of the rock band Sinners. These novellas are intended to be read after the Sinners on Tour series as each story is an epilogue to a different book in the series and thus riddled with major spoilers for not only individual books, but in some cases, the entire series.

See Goodreads for full Synopsis.
I love the Sinners at the Alter series! So much that I decided to re-read the series this year. I reached this goal a couple months ago. I read the original first 5 books and loved them all over again. I knew Sinners at the Alter had been out for a while and I was super excited that it existed but I just hadn't had the chance to get it yet. Since it is an addition to the original five books I didn't think to add it to my series re-read this year but when Alexa sent it my way I was so excited I started reading it immediately.
I devoured Sinners at the Alter. I was happy to get to read about all the band members again. I love their interactions through these big moments of their lives. They stayed true and were caring, funny, and completely inappropriate as usual. Made me love the characters even more.
Although, Sinners at the Alter had everything I love about the Sinners series there were a few things that just felt off with some of the stories. I loved Brian and Myrna in Backstage Pass and was really excited for their story but it might have been my least favorite. Then Jace and Aggie's story took an odd turn that I just didn't think was needed. I feel like it was just thrown in to add an extra obstacle for the sake of another obstacle. I enjoyed all other aspects of their story though.
Eric and Rebekah's story had to be my favorite. It was pretty perfect and true to the couple. All the stories had their ups and some their downs. Overall, I am so glad I finally got to read it. If you enjoyed the Sinners series do not forget to pick this one up. If you haven't read the series yet be sure to check out Backstage Pass!