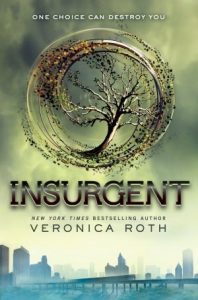 Insurgent Series: Divergent #2
Also in this series: Allegiant, Allegiant
Format: Hardcover
Read in: November 2014
Add to: Goodreads

One choice can transform you—or it can destroy you. But every choice has consequences, and as unrest surges in the factions all around her, Tris Prior must continue trying to save those she loves—and herself—while grappling with haunting questions of grief and forgiveness, identity and loyalty, politics and love.

Tris's initiation day should have been marked by celebration and victory with her chosen faction; instead, the day ended with unspeakable horrors. War now looms as conflict between the factions and their ideologies grows. And in times of war, sides must be chosen, secrets will emerge, and choices will become even more irrevocable—and even more powerful. Transformed by her own decisions but also by haunting grief and guilt, radical new discoveries, and shifting relationships, Tris must fully embrace her Divergence, even if she does not know what she may lose by doing so.
While many people in the book world were highly impressed with Divergent I wasn't. I expected that Divergent would blow me away and wow me. I will say it was a good book with some interesting and fun characters and plot lines I just didn't LOVE it when I read it. So I figured I would keep moving forward with the series to see if maybe my wow factor was just around the corner.
As soon as I started Insurgent I was enjoying it a lot more than Divergent. I just enjoyed how Tris and Four could relate to each other from the beginning. The initial start up of the characters was already over and done with and now we could move on with characters that we knew and wanted to see more of. I especially started to appreciate that Tris had more dimension to her in this book. Sure she was overly emotional at times and often would go back and forth between feeling different things but this made her appear to be more human. I'm sure it drove people nuts and made them think she was weak but I like to think she was stronger for this character shift of hers. I also started to fall more in love with Four in this book because he was finally showing this gruff of a man who wanted to lead, who wanted more out of life than he was able to show in the first book. I did think at times his character was an ass and there were times when I wanted him to just reach out for Tris already but he certainly had his moments. Once again I have fallen for the man in charge, the man who loves fiercely and passionately. Speaking of passion I wish there had been a special moment between these two. I wanted a little more steam in their relationship.
Of course I was also enjoying the plot line in this book because it was based mainly on action and what they were going to do about everyone being on split sides. I enjoyed watching their plans develop and I loved watching all of the battles for love, life and information that were going on. It kept the pace of the book fast and moving along quite nicely.
Overall, I was really loving this one because of the mix of great characters and a great plot line. However, I am rating this one a bit lower than a glowing 5 star review because the ending of this one kind of killed it for me. I felt the ending brought about a plot line that has been done before in a different series and I started to think that all dystopians are going to have this certain type of plot line and that makes me a little sad that this one was showing so much promise to then at the end of the book become just like the other dystopians out there. Of course I could be wrong and maybe the third book will take me back to a different plot line but for now I'm a little upset with the ending!