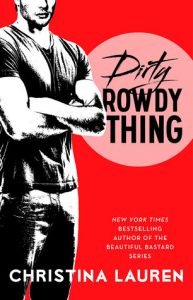 Dirty Rowdy Thing by Christina Lauren
Also by this author: Sweet Filthy Boy, Beautiful Player
Series: Wild Seasons #2
Also in this series: Dark Wild Night
Published by Gallery Books
Pages: 352
Format: Paperback
Read in: November 28th 2014
Source: Personal Collection
Add to: Goodreads

Despite their rowdy hookups, Harlow and Finn don't even like each other...which would explain why their marriage lasted only twelve hours. He needs to be in charge and takes whatever he wants. She lives by the Want-something-done? Do-it-yourself mantra. Maybe she's too similar to the rugged fisherman—or just what he needs.
Christina Lauren does it again! These ladies know how to write books that suck me in and leave me wanting the next one. Dirty Rowdy Thing was no exception and I cannot wait to get my hands on the next Wild Seasons book! Why must I wait until September for Dark Wild Night?! Good thing I am behind with their Beautiful Series.
I love the characters in the Wild Season series. Their group dynamic is perfect and I cannot wait to get everyone's story. They were all thrown together during a wild night in Vegas and I have loved them ever since. I loved that we get more of the group all together in Dirty Rowdy Thing since Sweet Filthy Boy did not have them all together for very long. They are such a fun group. They are loud, outgoing, and caring. They give each other shit but definitely love each other and worry about the others well being.
As for the stars of this story, Harlow and Finn were 😮 I thought Mia and Ansel were adorable but I couldn't get enough of these two. They aren't look for a relationship. Finn isn't even supposed to be in town long. He is passing through to take care of some family business and Harlow has her own family problems on her mind. Wanting a little escape from reality the two embrace their physical compatibility. The rest is lovely banter, flirty teasing,  a little rope, and the beginnings of a deeper connection neither would predict. The two made some pair.
At first glance Harlow is the bold one. The unfiltered life of the party. You get a taste of her other side in Sweet Filthy Boy but Dirty Rowdy Thing shows you more of who Harlow is. Peeling back some layers and looking into the life of a not so carefree Harlow was one of the things that really made this book. It really just had it all. The fun, emotional, and sexy times.