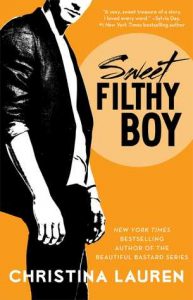 Sweet Filthy Boy by Christina Lauren
Also by this author: Dirty Rowdy Thing, Beautiful Player
Series: Wild Seasons #1
Also in this series: Dirty Rowdy Thing, Dark Wild Night
Published by Gallery Books
Pages: 416
Format: Paperback
Source: Personal Collection
Add to: Goodreads

One-night stands are supposed to be with someone convenient, or wickedly persuasive, or regrettable. They aren't supposed to be with someone like him.

But after a crazy Vegas weekend celebrating her college graduation—and terrified of the future path she knows is a cop-out—Mia Holland makes the wildest decision of her life: follow Ansel Guillaume—her sweet, filthy fling—to France for the summer and just…play.

When feelings begin to develop behind the provocative roles they take on, and their temporary masquerade adventures begin to feel real, Mia will have to decide if she belongs in the life she left because it was all wrong, or in the strange new one that seems worlds away.
I have been obsessed with Christina Lauren's books since I read Beautiful Bastard who knows how long ago. Since then I have wanted to pick up any and all books by those two lovely ladies. I haven't had the chance to read them all but I am working on it! Anyways, needless to say I was excited to get my hands on Sweet Filthy Boy. When they had a book signing close by the knew I had to go. I did, bought the book, met Christina and Lauren, and started reading it immediately after.
Sweet Filthy Boy was another cute/humorous/sexy read. I love the characters Christina Lauren create. They always seem so real. They are funny. They are awkward. They are both sweet and passionate in their relationships. These are some common themes I can count on. Sweet Filthy Boy had some great characters. I loved Mia and her struggle with figuring out what path to take next. I loved her ability to think about her choices yet decide to let go of thinking about everything she should be doing/thinking about and just let go and do something unexpected.  Oh and Mia goes big with the unexpected.  I also  loved Mia's friends. Their bond is tight. They have such different personalities but would do so much for each other.
Then of course I kind of liked Ansel…Just kidding. Although, still flawed I loved Ansel as much as everyone else. The title has labeled him accurately. They have plenty of awkwardness (it wouldn't feel realistic without it) but reading about Ansel and Mia opening up to each other, finding new things about each other and themselves was the highlight of this story. I am so used to having two POV when reading Christina Lauren books but it was kind of nice that this one was told from Mia's perspective. It made sense and it gave me room to try and figure out the over worked, slightly secretive, very caring, filthy sweet man that is Ansel.
My one complaint was the quickness of how some things are resolved throughout the story. I can't get into it without spoilers so I will leave it at that. Besides that another win from Christina Lauren. Sweet Filthy Boy was hard to put it. It brought me out of my reading slump. I feel like I whipped right through it. I recently bought Dirty Rowdy Thing and hope to devour it in the next week or two as well. Christina Lauren make some addicting reads.