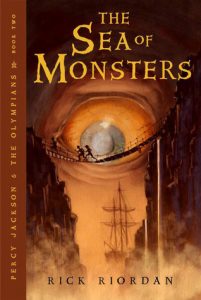 Sea of Monsters by Rick Riordan
Also by this author: The Titan's Curse, The Battle of the Labyrinth
Series: Percy Jackson and the Olympians #2
Also in this series: The Lightning Thief
Published by Disney Hyperion
Genres: Children's Books, Fantasy
Format: Paperback
Read in: October 2014
Add to: Goodreads

The heroic son of Poseidon makes an action-packed comeback in the second must-read installment of Rick Riordan's amazing young readers series. Starring Percy Jackson, a "half blood" whose mother is human and whose father is the God of the Sea, Riordan's series combines cliffhanger adventure and Greek mythology lessons that results in true page-turners that get better with each installment. In this episode, The Sea of Monsters, Percy sets out to retrieve the Golden Fleece before his summer camp is destroyed, surpassing the first book's drama and setting the stage for more thrills to come.
After really liking the adventures in the first book I knew I had to continue on with this series. Plus I own the whole series so I figured why not read the rest of it!
I found that this book wasn't as exciting to me as the first book was. I still really liked the characters in this one and I'm glad that we got to see more of Percy and what his quests were but at the same time I feel this book was slightly a filler book. There was a quest in this book and yes there was danger and problems that needed to be solved but it felt like the overall story arc was just to go back and save an old friend instead of making steps forward to defeating the ultimate bad guy. I also started to feel like this series is taking a Harry Potter approach to the quests. In HP it was always about going on these little adventures in each book that would lead them to stopping Lord Voldermort for another year instead of stopping him forever. I feel the gang in this book is doing the same thing. They are not defeating the Titan they are just prolonging his return. It felt so similar to me in certain ways that I felt like I should read HP instead of reading this.
What I do really love about this series is the interaction with the Gods though. It is what makes it have that little something extra for me inparticular because I love stories that have the Greek Gods in them. I guess my big draw is a I still like the characters and the Gods and Goddess aspects of the series.
While this wasn't a bad book it just didn't wow me and in my opinion it didn't add much to the overall story arc of the books so far. I do want to read the third book because it seems that it will get back to them trying harder to defeat the great evil that they face.