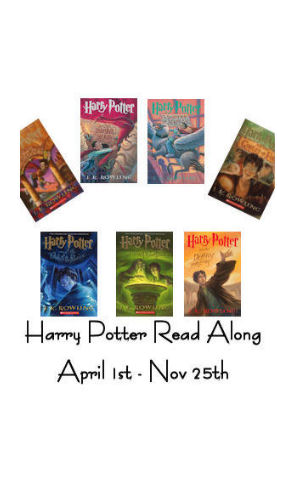 It's important that if you are re-reading this series that you answer the questions based only on the knowledge that we have so far!
For this book Shannon did me the great favor of coming up with the questions. I was burnt out and felt like I was asking the same questions over and over again. Here are this week's questions:
1. Were you pleased with the final chapters in the series? Do you think JKR tied everything up nicely?
Yes. I don't think she had much choice in the ending because of the seriousness of the world waiting with baited breath. I can remember that pamphlets were even made up for parents and how to deal with their children should Harry die in the end. o.O I mean that just goes to show ho big the books were. I have to say though that I am glad with the direction she took.
2. The book mentions that Mrs. Weasley's curse hit Bellatrix right in her chest and she died. Do you think Mrs. Weasley used Avada Kedavara?
Yes. She'd already lost Fred, Bellatrix had caused Harry serious hurt when she killed Sirius, and Bellatrix was going to kill Ginny. Bellatrix wouldn't have taken into consideration that Ginny was underage or that she was loved by all her family. Ginny was the enemy and therefore did not deserve to live. If Molly hadn't used the killing curse, Ginny would have been dead.
3. Do you think Harry should have united the three Deathly Hallows?
NO! Too much power can so easily go to a person's head. Having the three united could have only lead to trouble. It may have started out as being used for good but I think eventually that attitude would turn inward and be more about what the holder wanted rather than what the was for the greater good.
4. Through the series, who is your favorite character (besides Harry) and why?
You're good for picking out the toughies! I would have to say Hagrid. Time and again Hagrid proved what a gentle giant (no pun intended) he really was. Has always there for Harry and had his back no matter what. He was there to bring him from the wreckage to Privet Drive. Hagrid introduced Harry into the world of wizardry. In general Hagrid was there and I loved him for it.
5. Which book of the series is your favorite?
The Half Blood Prince without a doubt. We learn SO much from Harry's trips with Dumbledore. We learn about Voldemort and why things happened. We learn even more in The Deathly Hallows but the Deathly Hallows is just so darn sad.
6. Did you learn something new, or did you change your perspective on a character or topic because of this re-read?
Yes I did! Through this re-read of the series, I learned that The Order of the Phoenix wasn't really as horrible as I have judged it to be in the past. This time around it was much more tolerable. Harry didn't seem to be such a whiny snot this go round. 😀
7. In one sentence, describe why you love the Harry Potter series.
I love the Harry Potter series because Rowling takes us through sixty years or so of wizarding history, a present battle between good and evil, a story of a love unrequited for more years than is imaginable over seven books and thousands of pages and not once was I anything less than riveted.