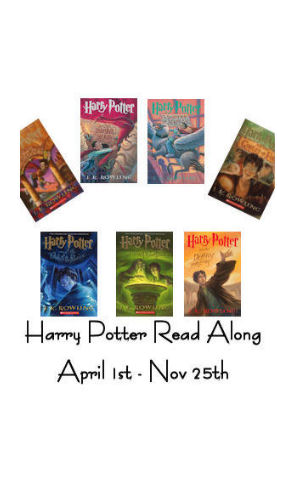 Check back for my answers and link up tomorrow!
Deathly Hallows Deathly Hallows Chapters 17 – 23:
1. Harry is forced to relive his parents' murders through Voldemort's memory. It's one of the key scenes that we, as readers, have been curious about through the first six books. What is your reaction to this scene?
2. It seems likely that Dumbledore was once anti-muggle and was plotting some kind of wizard superiority take-over with Grindelwald, who turns out to be a pretty dark wizard. If you were Harry, would you be able to forgive Dumbledore for his youthful wrongdoings?
3. Ron returns and saves Harry's life, but Hermione is not prepared yet to forgive him. Would you give Ron the same kind of grief that Hermione is giving him at this point in the story?
4. What do you think of "The Tale of the Three Brothers" and the Deathly Hallows?
5. The scene at Malfoy Manor is terrifying and even though Harry narrowly escapes, Dobby is killed by Bellatrix's knife. Has your appreciation of Dobby evolved over the course of the entire series?