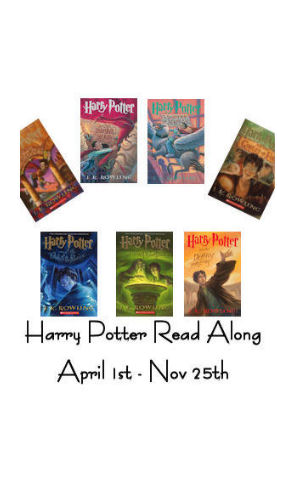 Check back for my answers and link up tomorrow!
Deathly Hallows Deathly Hallows Chapters 12 – 16:
1. If you were a Muggle-born witch or wizard, like Mrs. Cattermole and Ted Tonks, what would you do under this oppressive Ministry of Magic regime?
2. Speaking of the oppressive Ministry, Delores Umbridge is back. Are you surprised she can produce a patronus?
3. Harry has a "mind over matter" moment when he has to survive the dementors without producing a patronus. He's come a long way since the first time he saw a dementor on the Hogwarts Express. What do you think of Harry's character growth in this book so far?
4. Harry, Hermione and Ron are going through some trials and tribulations when they are on the run. How would you have handled these challenges?
5. Harry has been reflecting a lot on how much it hurts to have lost his family. His visit to Godric's Hollow really brings this issue to the forefront. How did you feel when you read the scene in the Godric's Hollow graveyard?