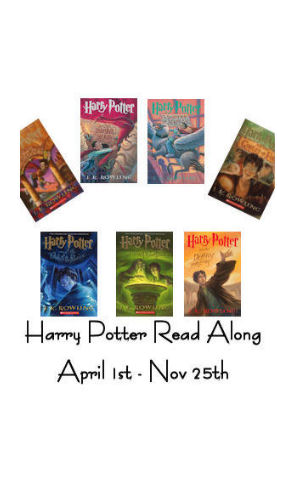 Check back for my answers and link up tomorrow!
Deathly Hallows Deathly Hallows Chapters 1 – 6:
Chapter 1: Malfoy Manor! What do you think of the Malfoy family's behavior in this chapter? What about Bellatrix and Snape? Did they all behave as you would expect them to in this Death Eater council meeting with Lord Voldemort?
Chapter 2: We (and Harry) learn a lot more about Dumbledore's life and family before he became Hogwarts Headmaster. What is your reaction? Why do you think J.K. Rowling decided to wait until the last book to reveal more about Dumbledore's background?
Chapter 3: Dudley and Petunia showed signs of caring for Harry in their last scene together (even though Petunia had difficulty articulating her feelings). If you were Harry, and you survive/defeat Voldemort, would you contact Petunia and Dudley afterwards to try to build a better relationship with your Mother's family? (I think we can all agree that Uncle Vernon is a lost cause.)
Chapter 4: The obvious question…would you let six of your friends (including your two best friends) disguise themselves as you when you you're the #1 target of the Death Eaters? The less obvious question…If you were Hermione or Fleur, would you feel weird, anatomically speaking, transforming into a 17-year-old young man?
Chapter 5: Mad-Eye Moody didn't survive the Death Eaters' attack. What did you think of Mad-Eye Moody (throughout books 4-7)? Was he one of your favorite characters or did you not really care for him?
Chapter 6: Horcruxes! Thankfully the summoning charm worked and Hermione was able to obtain these illicit text books. Knowing what Harry, Ron and Hermione know at this point, where would you go first on this horcrux-destroying pilgrimage? Where should they begin? (If only Molly would let them have a few moments together to formulate a plan.)