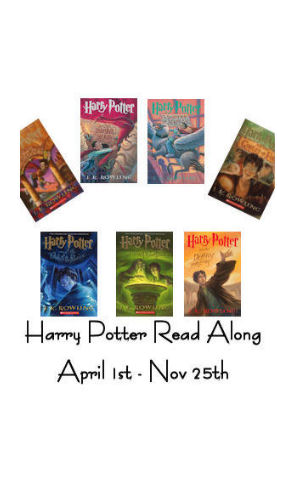 It's important that if you are re-reading this series that you answer the questions based only on the knowledge that we have so far!
For this book Shannon did me the great favor of coming up with the questions. I was burnt out and felt like I was asking the same questions over and over again. Here are this week's questions:
1. Do you think Hermione is right/fair when she admonishes Harry for letting Voldemort in?
I agree with her because we know that the connection works both ways from the tragic events of Order of the Phoenix. BUT I know that I wouldn't be able to do it myself so it's not like I can really judge Harry or say that he's being "weak". I am one of those people who has the misfortune of wanting to know everything even when I don't need too and it would be better if I didn't.
2. Auntie Muriel and Elphias Doge had an interesting conversation at the wedding about Dumbledore. Who do you think is closer to the truth?
I think somewhere in between you find the truth. Rarely is anything as scandalous as Auntie Muriel would like to make it to be. On the flip side rarely is anyone as worth the reference that Elphias Doge makes Dumbledore out to be. Dumbledore was a man. We spend much of our young life learning who we are. Dumbledore learned that just like anyone else. He wasn't born with that ancient wisdom that we have always known him for. We only knew him for the last six years of his life so I think that he had something in his past but I know that it made him a better man.
3. Kreacher's tale is fascinating. Regulus learned one of Voldemort's most important secrets. If you were in RAB's position, and you realized the error of your ways in serving Voldemort, what would you have done?
I don't think I could have been as brave as Regulus. I would have probably told someone (anyone) what I was setting out to do just so that if I didn't make it out another person would know the secret and how to destroy him. Or even told Kreacher specifically to tell someone like Dumbledore the tale instead of swearing him to silence.
4. Kreacher does a complete 180 and begins to support Harry, Hermione and Ron by providing meals and housekeeping. How do you feel about house elves and their place in the wizarding world?
I want to say that as much as I despised Kreacher in the previous books, I loved him in this book. He only ever wanted to be loved and love. I think that house elves shouldn't be chained to their positions. If they want freedom like Dobby did then they should be granted it. I do have to say that I love the devotion that they have for their wizarding families.