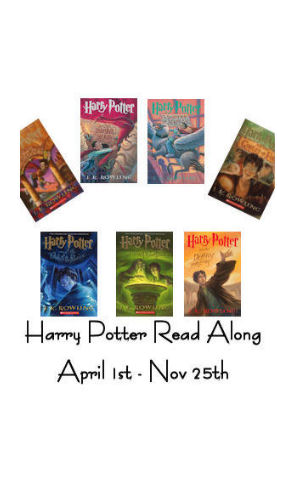 It's important that if you are re-reading this series that you answer the questions based only on the knowledge that we have so far!
For this book Shannon did me the great favor of coming up with the questions. I was burnt out and felt like I was asking the same questions over and over again. So without further ado:
Chapter 1: Malfoy Manor! What do you think of the Malfoy family's behavior in this chapter? What about Bellatrix and Snape? Did they all behave as you would expect them to in this Death Eater council meeting with Lord Voldemort?
I'm not surprised by it really. The Malfoys started to show their true colors in Order of the Phoenix. They may be rich but they were only ever influential of people who were weaker then they were. I actually feel sorriest for Draco because often we are the product of our upbringing. You can change, but only when you've had the chance to either see a bad upbringing for what it really is or have the opportunity to see a different way of life. I think this happened for Draco over the summer once Voldemort was "out" in the magical world.
Chapter 2: We (and Harry) learn a lot more about Dumbledore's life and family before he became Hogwarts Headmaster. What is your reaction? Why do you think J.K. Rowling decided to wait until the last book to reveal more about Dumbledore's background?
Maybe this is the re-read talking but I wasn't really all that shocked again. I mean we knew he had a brother but that was about it. We all have things that are uncomfortable to talk about and this was Dumbledore's. I think JK Rowling left it until the last book because you need to see the grey in the world to accept that not everything is black and white and age is something that helps to blur those lines.
Chapter 3: Dudley and Petunia showed signs of caring for Harry in their last scene together (even though Petunia had difficulty articulating her feelings). If you were Harry, and you survive/defeat Voldemort, would you contact Petunia and Dudley afterwards to try to build a better relationship with your Mother's family? (I think we can all agree that Uncle Vernon is a lost cause.)
I don't think that I would because it would just be easier for all parties involved. Dudley and Petunia are not going to give up on Vernon and there's too many bad things that happened between Harry and the Dursleys. I don't feel like "I don't think you're a waste of space." adequately covers all those years of abuse and hurt. I think I'd want to leave it at those somewhat warm feelings and be at peace with that.
Chapter 4: The obvious question…would you let six of your friends (including your two best friends) disguise themselves as you when you you're the #1 target of the Death Eaters? The less obvious question…If you were Hermione or Fleur, would you feel weird, anatomically speaking, transforming into a 17-year-old young man?
I would fight it just like Harry but when presented with the logic that I'd do the same in their shoes, I'd try to find peace with it. Plus I don't think Harry would have gotten far in arguing with Mad Eye. 😉 THIS is why I'm glad that you agreed to come up with the questions!!! I had never even thought of this. 😀 YES! YES, I would feel weird! I think I remember thinking about this when the book first came out but not this time. Lol.
Chapter 5: Mad-Eye Moody didn't survive the Death Eaters' attack. What did you think of Mad-Eye Moody (throughout books 4-7)? Was he one of your favorite characters or did you not really care for him?
Mad Eye and Hedwig and I honestly don't know which one upset me the most. Hedwig has been with Harry since the beginning. 🙁 I had a soft spot for Mad Eye because he was one of those people who is completely paranoid but with cause. It's not like he was wrong, was he? I'm not sure but even when he was being impersonated, I really enjoyed his character.
Chapter 6: Horcruxes! Thankfully the summoning charm worked and Hermione was able to obtain these illicit text books. Knowing what Harry, Ron and Hermione know at this point, where would you go first on this horcrux-destroying pilgrimage? Where should they begin? (If only Molly would let them have a few moments together to formulate a plan.)
Poor Molly! She just wants to keep those she loves safe and I can completely understand where she's coming from!! I wouldn't have the first clue where to go to finish finding the horcruxes. I think that it would have occurred to me to continue Dumbledore's methods and look in places that were particularly important to Voldemort. The first place would have been Hogwarts but I know that there is no way that I could have gone to Hogwarts at that time. I probably would have checked the Chamber of Secrets.