Title: Dead Chaos (Valkyrie #3)
Author: T.G. Ayer
Publisher: Infinite Ink
Publication Date: October 30th, 2013
Goodreads Summary:
Valkyrie Bryn Halbrook is broken and damaged…

Struggling to accept the loss of her wings, Bryn's not sure if she can be a real Valkyrie anymore. But when a mysterious prophecy claims she will be the reason the All-Father dies, she is determined to ensure the prediction will not come to pass.

A visit to the three fates who live beneath the great Tree of life, sends Bryn racing against time to find the missing Heimdall and his horn. As Odin's life hangs in the balance and Ragnarok draws ever closer, Bryn has to find a way to save Heimdall and Odin before she can discover the truth about who she really is.

In this thrilling instalment in the Valkyrie series Bryn must battle not only the formidable frost giants and the hated God Loki, but she must also find a balance between what she will lose and what she will gain.
Excerpts

#1
Further down the table were a row of microscopes, and stacks of little jars containing blood samples. It horrified me to think that part of my body had undergone this extent of experimentation. As if I were a monstrosity.
"This is what makes Midgardians a barbaric race." A voice penetrated the haze of violent anger that surged through me.
#2
All this time I'd envied Astrid her stunning white wings that shimmered silver as she walked, so bright as to appear angelic. All that time wasted coveting wings of such stunning beauty.
A beauty I'd never seen for myself.
A beauty now wasted.
Purchase Dead Chaos
Smashwords ~ Amazon US ~ Amazon UK ~ Amazon AU ~ B&N

About The Author: T.G Ayer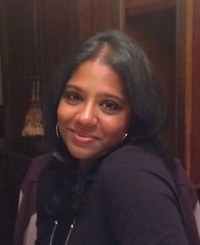 I have been a writer from the time I was old enough to recognise that reading was a doorway into my imagination. Poetry was my first foray into the art of the written word. Books were my best friends, my escape, my haven. I am essentially a recluse but this part of my personality is impossible to practise given I have two teenage daughters, who are actually my friends, my tea-makers, my confidantes… I am blessed with a husband who has left me for golf. It's a fair trade as I have left him for writing. We are both passionate supporters of each other's loves – it works wonderfully…
My heart is currently broken in two. One half resides in South Africa where my old roots still remain, and my heart still longs for the endless beaches and the smell of moist soil after a summer downpour. My love for Ma Afrika will never fade. The other half of me has been transplanted to the Land of the Long White Cloud. The land of the Taniwha, beautiful Maraes, and volcanoes. The land of green, pure beauty that truly inspires. And because I am so torn between these two lands – I shall forever remain cross-eyed.
Website ~ Facebook ~ Twitter ~ Goodreads ~ Amazon
Giveaway
Blog Tour Schedule
18th Nov
    YAlicious – Review
http://yalicious.blogspot.com

My Book Chatter – Spotlight post with excerpt
http://mybookchatterchat.blogspot.com

20th Nov
Words I Write Crazy – Review
http://writingcrazyme.blogspot.com
21st Nov
Carlyle Labuschagne – Spotlight post with excerpt
http://worldsawaybookblog.blogspot.com
The Ferryman's Wife – Review
http://theferrymanswife.blogspot.co.uk
23rd Nov
Fabulous and Fun – Spotlight post with excerpt
http://www.fabulousandfun.com
 
24th Nov
Kelly's Thoughts On Things – Spotlight post with excerpt               
http://kellysthoughtsonthings.com
 
26th Nov
Bookwyrming Thoughts                – Spotlight post with excerpt
http://bookwyrming-thoughts.blogspot.com
                               
27th Nov
Soul Chaser – Review
http://soulchaserbecky.blogspot.co.uk
I Read Indie – Spotlight post with excerpt
http://twimom101bookblog.blogspot.com
28th Nov
Writing Dreams- Spotlight post with excerpt
http://www.writingdreams.net
Pages Of Forbidden Love – Spotlight post with excerpt
http://www.pages-of-forbidden-love.com
1st Dec
Best Books – Review
http://bestbooks89.blogspot.com
               
Just One More Page – Spotlight post with excerpt
www.theothersideofthepage.wordpress.com
2nd Dec
Sweets Books -Spotlight post with excerpt
http://sweetsbooks.wordpress.com
3rd Dec
What the Cat Read – Review
http://whatthecatread.wordpress.com
Bookish Things & More – Review
http://bookishthingsandmore.com
4th Dec
Verna Loves Books – Review
http://vernadene.blogspot.com
Book Briefs – Review
http://bookbriefs.blogspot.com
               
5th Dec
The Book Reading Gals – Review
http://thebookreadinggals.com
My Family's Heart Book Reviews & Tours – Review
http://tonyaloveslife.wordpress.com
6th Dec
Nomi's Paranormal Palace – Review
http://nomisparanormalpalace.blogspot.com.au
Penny For Them… – Review
http://pennyforthemuk.com
7th Dec
Out of Control Characters – Review
http://outofcontrolcharacters.blogspot.com
Buried Under Books – Spotlight post with excerpt
www.buriedunderbooks.com
8th Dec
Cu's Ebook Giveaways –                Spotlight post with excerpt
http://cusebookgiveaways.us
9th Dec
Love Romance Books – Review
http://loveromancebooks.wordpress.com
MHZ Book Reviews & Giveaways – Review
http://mhzbookreviewsandgiveaways.blogspot.com
                                                                               
10th Dec
Wicked Readings by Tawania – Spotlight post with excerpt
http://wickedreadingsbytawania.blogspot.com
Mercurial Musings – Review
http://mymercurialmusings.com
               
11th Dec
Tracy Riva Books & Reviews – Review
http://tracyriva.com
Bookworm Lisa- Spotlight post with excerpt
http://lisaisabookworm.blogspot.com
12th Dec
Indy Book Fairy – Review
http://paranormalbookfairy.blogspot.com
13th Dec
T B R – Review
http://tbr-io.blogspot.com
Scandalous Book Blog – Review 
http://scandalousbookblog.blogspot.co.uk
19th Dec
LoupDargent.info – Spotlight post with excerpt
http://www.loupdargent.info