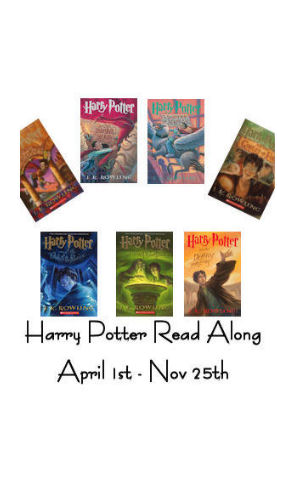 It's important that if you are re-reading this series that you answer the questions based only on the knowledge that we have so far!
1. The first task has something to do with dragons. Harry does Cedric a solid and lets him know what is going to happen. (Cedric is the only one who doesn't know.) Would you have done the same?
Yep! I wouldn't have been able to sleep if I knew that everyone else knew but my fellow Hogwarts schoolmate. I would also probably have some residual shame that I wasn't the "real" Hogwarts champion.
2. Dobby and Winky are working at Hogwarts! Winky is not doing well. At this point do you think Winky will ever get over being freed?
I don't foresee Winky getting past this. It seems to be one of those life changes that is just going to haunt her for the rest of her life. It's not like she can get that same level of satisfaction from working at Hogwarts. I really feel horrible for her!
3. Champions are required to open the Yule Ball with their date. If you had to chose someone to go to the ball with who would you go with?
Well since this IS a fantasy I'd say that I would have loved to gone with Cedric. If I were feeling more realistic, I'd say that I'd probably go with Neville. He may be hopeless but he is one of the sweetest boy's in his year and I'd consider myself lucky to go with him!
4. What do you think of Hermione's transformation?
I was over the moon for Hermione! There are a lot of people who will say that she sold out but I feel like she proved that if she took the time she could be as beautiful physically as any girl in that castle. Hermione chooses to apply the time that she would use to do all of her hair and makeup to study and the applications of her studies. This is probably NOT what was intended by JK Rowling but I truly felt that this was a big "F You!" to the girls who had made Hermione feel like less of a person because of her hair and teeth.
5. What do you think of Ron's reaction to Hermione's transformation and her date?
If I didn't know how hurt/happy Hermione was to get that kind of reaction I'd say it was almost comical. It's like Ron only woke up when Hermione got her glam on. The amusing part is that he's mad at her for it. I don't know if he's mad because it changes everything or if because he didn't see it for himself until it was too late. I get the feeling that there is a lot that happens with Ron and Hermione when Harry's off doing his own thing that we never see. I wish we could see more of it.