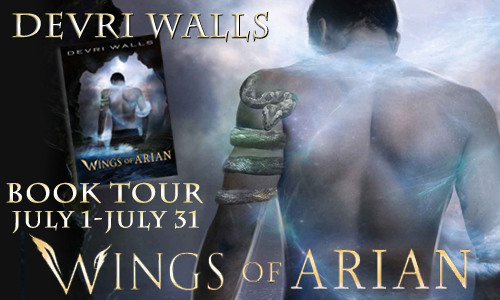 Title: Wings of Arian
Authors: Devri Walls
Publisher: Stonehouse Ink
Publication Date: April 2012
Classification: YA Novel
Challenge: None
Summary from Goodreads:
Kiora thought she had never heard a lie until she was sixteen. But she was wrong. Her entire existence was based on nothing but. She thought that evil did not exist. Lie. That magic was not real. Lie. And that the land of Meros was all there was. One more lie.
With Aleric telling her that evil is knocking on the door and that she is the only one who can stop them she has a choice to make. Refuse, or start the wildest most painful ride of her life.
She reluctantly dips her toe into her new existence of magic and threads, dragons and shapeshifters, and the person who wants to take control of it all: the evil Dralazar.
However, this journey was never meant to be hers alone. She will be accompanied by a Protector. To her disbelief, and utter irritation they name the hotheaded, stubborn, non -magical, (albeit gorgeous) Prince Emane. They will have to trust each other with their lives, but right now Kiora would settle for a non hostile conversation.
And now it comes down to this, If you had never heard a lie, would you know when you heard one? Is knowing good from evil innate? Kiora finds herself having to decide who lives and who dies on those very questions.
My Thoughts:
I'm not going to lie on this one…I was taken in by this awesome cover. I knew I wanted to read it with the combination of the cover and the summary but I feel like I was let down a little bit on the cover end and how it fit into the story. See going by the cover I really thought this was going to be an older teen novel. You know the classic girl falls for one hot boy and another one shows up to show her the way. In this case I was thinking that even though Kiora was going to spend a lot of time with the Prince that Arian would have played a bigger role in this whole book.
The story that one actually gets into is a story about Kiora and Prince Emane having to prepare themselves for a battle against evil. The city that they come from knows nothing of this evil, knows nothing about magical powers, dragons, shapeshifter or the evil that lies in Dralazar. During the first half of this novel the book reads very much like a middle grade book and it can be classified in the genre of epic fantasy. This means that the beginning of this book is very slow and yes at times boring. All our main characters are doing is going around trying to find supporters for their cause, come to terms with being the Solus and the Protector, and just flying from one area of land to another.
Overall, if you can make it past the boring beginning, the fact this reads much more like middle grade instead of the older YA novel I was expecting, and if you love epic fantasy plots then this is the book for you. I'm torn on this book because I really did love the characters and meeting all of the different magical creatures but there were several downsides to going into a book expecting one thing and gaining quite another. I also didn't like that there were many little typing errors along the way and some sentence flow problems where there were extra words in a sentence that just didn't make sense for them to be there. So at the end of the day are great characters enough to make a story shine… well I pride myself on being a very character driven reader so they did greatly help the book out but I'm just not entirely sure on how I feel about this book. So I'm going to leave it for you to decide.
About the Author:
Devri Walls lives in Kuna Idaho with her husband and two kids. She has worked as a music teacher and currently, a preschool teacher. She majored in theater and her love of a story still drives her today. Thankfully, she has finally found an outlet for all the voices in her head. Her first novel, Wings of Arian, is available on Amazon and Barnes and Noble.
 Find her on:
 Twitter
Facebook
Blog
Goodreads
Giveaway Information:
In order to enter to win one of 2 $100 Amazon Gift Cards head on over to The Bookish Brunette's Wings of Arian Excerpt Post!