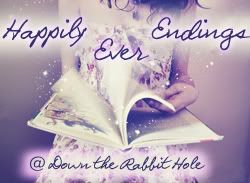 Happily Ever Endings is…
"Happily Ever Endings… was born out of sheer frustration. You know how when you read a series and you love it but the last book takes a little while to come out and then you sort of forget parts of the novel? That's what these posts are going to serve to remedy. Happily Ever Ending… is a short post about what happened at the ending of each book that is going to be in a series for people who need a quick reminder of what happened in the previous installment. I hope this saves someone else the frustration that I went through!"
~ Amber
Today's Happily Ever Ending is…Embrace by Jessica Shirvington
By the time the ending portion of this book rolls around a lot is certainly going on with the story itself. At this point Violet has Embraced her half angel side in order to heal Lincoln. Even though she gave him his life back she is still not on great terms with him since she still feels betrayed by him not telling her what she really was all along. Of course it was never really within Linc's power to tell her but she feels betrayed just the same. So since she has decided to be with Phoenix she goes out to a night club at the end of the book with Phoenix.
While at the nightclub she is having a good time until she senses that about eight exiles are approaching the club, since she has been haunted by these exiles before she knows they are coming for her. She still has some power that not even she is fully aware of, plus even with great power she has some shadow covering up a part of her powers. No one knows why this shadow is there but in the next few pages this is going to become a huge piece of the puzzle.
Right before the exiled angels make their way into the club, Violet calls Linc for backup because Phoenix has left her all alone while he goes around in the shadows trying to figure out what to do to help. Well of course the exiles make their way into the club and come directly for Violet. They know a part of her is covered in a shadow and this will allow them to take her, despite her unique and strong powers. Just when the exiles are going to take Violet Phoenix shoves mist through the air that releases Violet from their spell. The exiles are outraged that Phoenix would spoile their plans, just when they finally had her thanks to the shadow that Phoenix implanted on her when he slept with her a few nights before. That is right, one of the guys that she cares for is the bad guy in the plot. Phoenix, who she let sleep with her, has just betrayed her! Phoenix tries desperately to explain that he didn't do it for the exiles that he did it to make sure he could have her, he didn't want her to run off and leave him for Linc.
At this time everyone arrives to help out in the fight that has broken out because Violet is no longer under the Phoenix's control but the exiles need her power. Just as it looks like an exiled angel will grab Violet she unleashes her power and strips away the power of the exiled angel standing in front of her, now he is nothing more than a human! She quickly uses her new powers to hodl the will of all the other exiles so they can be stabbed by Linc's friends in order to go back to the angel world to await their judgment day. Once all the dust settles does Violet get a little breathing room. Enough to sort of start to fix things with Linc and to hear from Phoenix about what he plans to do with his life now that Violet knows he is the son of a goddess of pure seduction and evil.